Hemp farmers are making money from nose to tail with their products thanks to a strong market for CBD pre-rolls. According to Grandview Research, the global CBD market was valued at US $4.6 billion in 2018 and is expected to grow at a compound annual growth rate (CAGR) of 22.2 percent from 2019 to 2025.
Harrison Bard, head of business development at Custom Cones USA, a pre-roll supplies company serving the industry, said hemp/CBD farmers have been a source of growth for the company as farmers get equipped to venture into the pre-roll market.
According to a 2020 study of the pre-rolled cannabis industry undertaken by Custom Cones USA, nearly 30 percent of pre-roll cannabis businesses surveyed were hemp/CBD manufacturers, taking their CBD flower and trim product and rolling it up into CBD-rich pre-rolled joints.
"As hemp farms dip into CBD pre-rolls and cigarettes, we have found there is a steep learning curve when you go from just growing the hemp to processing it into another product," Bard said. "We try our best to be an education resource for our customers."
Gearing up for volume
If a farm is just getting into the pre-roll space, there are a couple of assumptions that can be made about their production machinery needs. They likely will need a grinder to shred their hemp product into a fine consistency, and they likely will need a filling machine to fill their cones or tubes with the ground hemp product.
Bard said Custom Cones USA carries several grinders but specializes in machines with high torque and low revolutions per minute that push the product through variable screen sizes to achieve the uniform grind.
"A lot of grinders use high RPMs that create heat, which tends to pulverize the hemp product to dust, losing some of its primary flavor," Bard said.
After grinding, pre-roll professionals put the product through a sifter machine to remove any stems or foreign material from the mix.
As for filling machines, Custom Cones USA is a big proponent of the King Kone because it works with the most sizes and packs pre-rolled cones perfectly with a strong up-and-down bouncing action, driven by a motor.
"The King Kone is effective and versatile," Bard said. "Customers love that it can do three of the main cone sizes right out of the box with no extra attachments."
Compared to other industrial cone-filling machines, the King Kone has size-specific trays for half-gram, 0.7-gram, and full-gram pre-rolls included with the base pre-roll machine. However, filling cigarette-style tubes requires a totally different machine setup.
Standing out in a crowded market
Although the CBD space still has a lot of growth on the horizon, the market already is becoming crowded. Google "CBD pre-rolls" or "CBD cigarettes," and you will see a lot of brands competing for attention. Your local gas station may even carry 2-3 CBD pre-roll options already, so it is important to ensure your brand and products stand out.
New brands or farms should look at their local market and see how much competition they have. Check smoke shops and gas stations to see how competitive local stores will be to get into. Once you've gathered some market data, start thinking about branding and packaging.
For packaging, Bard said Custom Cones USA has one of the widest selections of joint tubes, pre-roll tins, and  other types of luxury and child-resistant multipack packaging in the industry.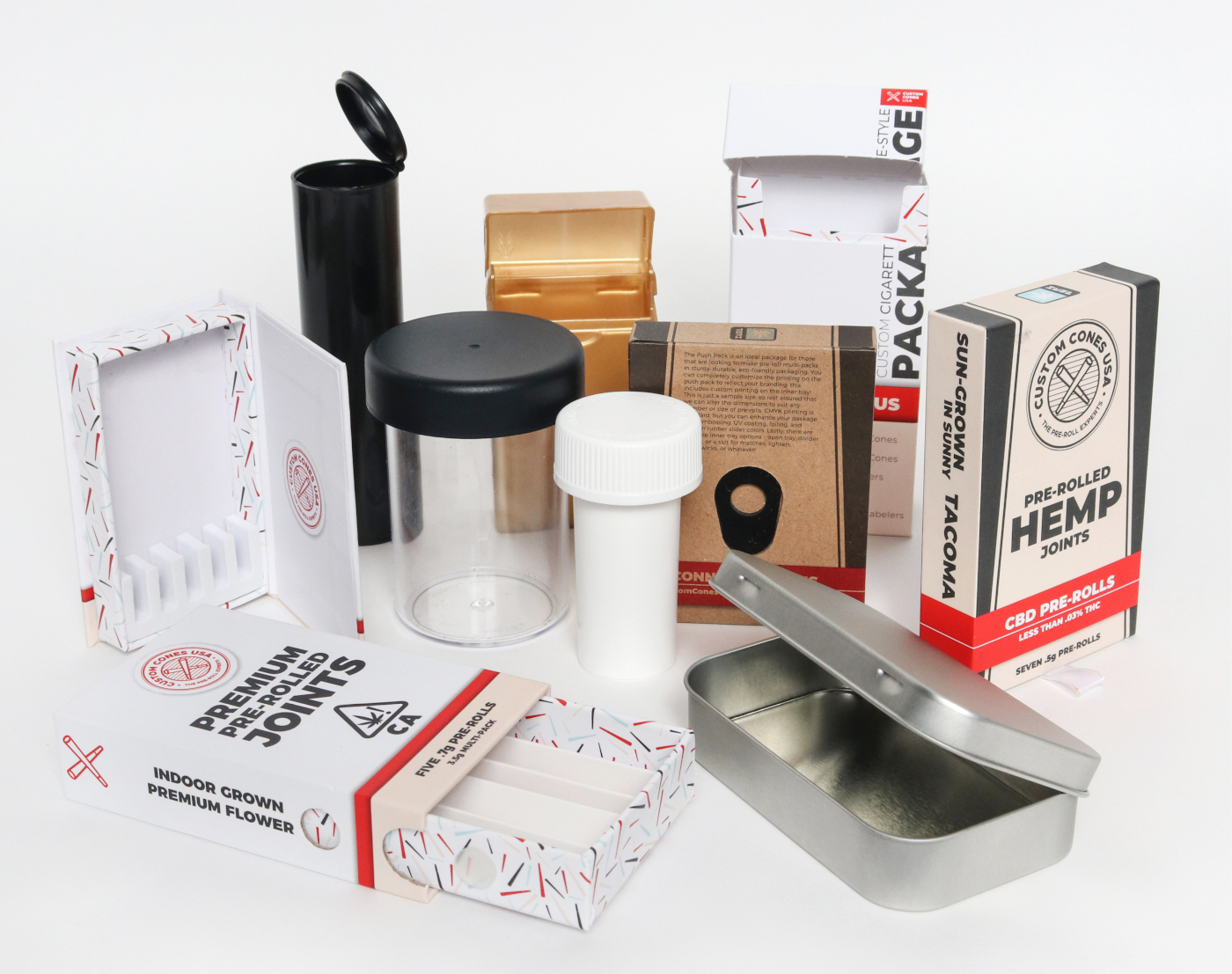 "We have done some really cool custom packages," he said. "If they can think it up, then we can create it."
Bard said this ability to customize packaging is getting more and more important as CBD smokes increase in popularity and the market becomes more crowded.
It's not just that there are a lot of players getting into the CBD pre-rolls market, but there are some big players coming on the scene as well. San Francisco-based cannabis tastemaker SHERBINSKIS recently began producing CBD smokes. Also, in 2019, internationally acclaimed pop star Post Malone launched his own CBD pre-roll brand called Shaboink.
"Brands have to have a thoughtful approach to how they are competing in their local market," Bard said.
Future of the industry
If you are a hemp grower, brand, or any business thinking about getting into the CBD pre-roll space, there are a ton of factors and variables to consider. For example, you can choose between offering your CBD pre-roll in two main forms: a cone or a tube.
The pre-rolled cone and pre-rolled tube require different machines to produce. Different filter and paper types are available, each offering a totally different smoking experience.
Regardless whether you choose cone or tube format, automation is coming. There are many automated machines coming to help farmers produce both pre-rolled cones and cigarette-style CBD pre-rolls.