In only a few short years, cannabidiol (CBD) has gone from being considered a fringe home remedy to an established wellness product available in many supermarkets, corner stores, and health food stores. CBD producers no longer are offering a novelty product. Nowadays, cannabidiol is as commonplace as most other treatments available over the counter.
It's been a wild ride, but looming regulations and increasing consumer intelligence mean the industry must adapt to survive. Consumers aren't happy with just any old CBD oil these days. Instead, they are looking for reputable, safe, and effective formulations. It's time for the industry to adopt a pharmaceutical approach.
The importance of consumer confidence
In the beginning, the CBD market operated like the Wild West, and to some extent, it still does. With little oversight of production and marketing claims, many consumers have had a less than stellar experience with the hemp-derived compound. As one
2017 analysis discovered
by testing products from online marketplaces, the vast majority of CBD products are mislabeled. The results, published in the
Journal of the American Medical Association
, found 42.85 percent of products tested were under-labeled for CBD content, while 26.19 percent were over-labeled. Of even more concern: The researchers detected THC in eighteen out of eighty-four tested products that claimed to be THC-free. Because the products were sold and labeled as CBD tinctures, oils, and vape liquids, the authors note the unlisted THC content may be problematic as it "may be sufficient to produce intoxication or impairment, especially among children." This lack of consistency, paired with sometimes wild marketing claims, has frustrated many. Especially considering consumers typically use cannabidiol for health and wellness applications, consistency and quality should be paramount during production. Consumer confidence is critical to success in this industry. Consumers need to think about how and where the products they're buying are produced. Although many websites state a product has gone through third-party testing, this is not enough anymore. Consumers want access to testing information, and rightfully so.
Better products through bioavailability
Another way the CBD sector has to change is by working with better formulas. No matter how much therapeutic potential a compound contains, it's ultimately only as good as the body's ability to absorb it. Cannabidiol has naturally poor bioavailability, which means human bodies struggle to absorb the valuable compound. For every drop of conventional CBD oil placed under the tongue, a significant portion doesn't provide any therapeutic value. So how can we improve outcomes for consumers? We need to make products more effective and fast-acting, which in turn makes them more desirable for consumers. Several technologies borrowed from the pharmaceutical industry already are making CBD a better overall option. Employing nanotechnology, including nanoemulsion, can dramatically improve the efficacy of cannabinoid products.
CBD producers must evolve
Year over year, the demand for CBD has outpaced expectations. To remain competitive in such a crowded marketplace, CBD brands must evolve to keep in step with the changing regulations, consumer demands, and technologies. It's no longer good enough to slap CBD on the label. Consumers want proof of efficacy and safety. They want assurance of potency, origins, and production standards.
---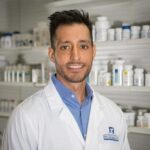 Chris Adlakha
, PharmD, operates compounding pharmacies in Texas, where his 
Elevated Wellness
 line of CBD products is produced in state-of-the-art, regulated laboratories using pharmaceutical science. Elevated Wellness products contain purely U.S.-grown, non-GMO organic hemp and are gluten-free and vegan-certified.