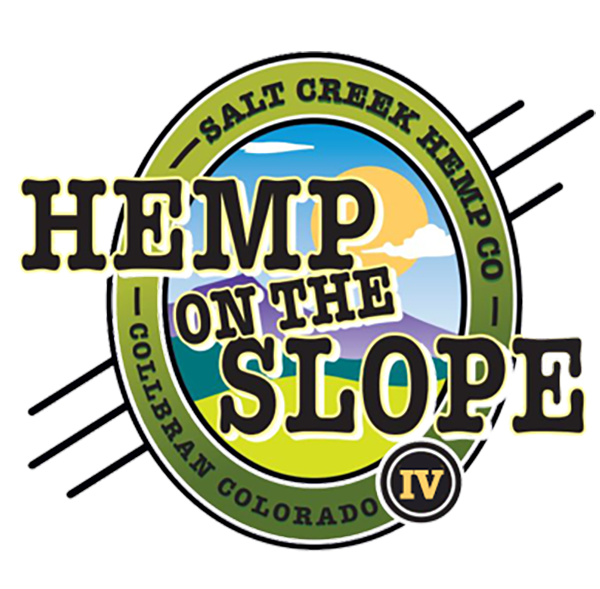 Grand Junction, Colo. – Colorado and Western U.S. hemp farmers, industry leaders. and advocates are inviting the community to gather together and discover more reasons to love hemp at the 4th Annual Hemp on the Slope educational and networking event on Saturday, July 20, 2019, in the beautiful Western Slope town of Collbran, Colorado, located near Grand Junction and Colorado's Grand Mesa recreational region.
The Colorado Hemp Company, and Colorado Hemp Project have teamed up to host this year's hemp-centric event, which brings together industry leaders with a great depth of knowledge from experienced hemp farmers and producers who are focusing on farming and manufacturing industrial hemp for food, supplements, fuel, fiber, animal nutrition, building materials, and many other uses of non-psychoactive cannabis. In addition, Hemp on the Slope will present important updates on FDA and USDA regulation.
This year's Hemp on the Slope features specialists, experts and speakers (see below) who will discuss the economic impact hemp production will have on local economies and its rapid growth as a top commodity. Studies and recent news stories project that Colorado could anticipate more than 50,000 acres of hemp. Join in on the fun and hear about the many benefits of industrial hemp, all while networking in one of the nation's emerging centers of hemp production.
Programming for the event will feature speakers, presenters and panelists, including Doug Fine, the bestselling author of HempBound, and Rich Novacks from CSU, sharing his expertise on hemp genetics. Additionally, Hemp on the Slope will include an update from the Colorado Department of Agriculture and CHAMP (Colorado Hemp Advancement and Management Plan), a statewide initiative to chart how to manage and promote hemp cultivation and production in the state amid questions about federal regulations.
"This is a perfect family-friendly event that has evolved into a fun-filled day full of educational seminars, equipment demonstrations, exhibitors selling a wide away of hemp-based products, and a strong focus on the farmers who are a major part of our communities," said Morris Beegle, co-founder of the Colorado Hemp Company and producer of Hemp on the Slope.
For tickets and information visit Hemp on the Slope.
Event Details: Saturday, July 20th from 10am to 4pm at the Salt Creek Ranch, on 60½ road in Collbran. For sponsorships, please contact Morris Beegle or Compass Natural Marketing, as there are a few vendor spots still available. Please, no dogs allowed except service animals.
About Hemp on the Slope: The 4th Annual Hemp on the Slope is produced by the Colorado Hemp Company, a division of WAFBA, LLC (We Are For Better Alternatives), based in Loveland, Colorado, and producer of NoCo Hemp Expo, the world's largest and most comprehensive trade show and conference for industrial hemp, as well as the Southern Hemp Expo, scheduled for Sept. 6-7, 2019, in Nashville, TN. WAFBA is founder of TreeFreeHemp paper and printing services and the Colorado Hemp Company. Areas of focus include product and brand development, event production, consulting and advocacy. Learn more at HempOnTheSlope.com.