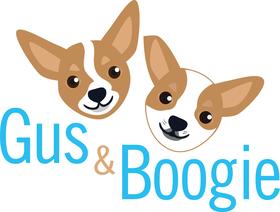 LOS ANGELES – GUS & BOOGIE, the premier provider of CBD products for dogs, announced the launch of operations today. The company, which aims to lead the rapidly expanding segment, revealed two core products with the launch of its website, gusandboogie.com, including an all-natural CBD dog treat and a bacon flavored CBD tincture pet formula.
GUS & BOOGIE, which is based in Los Angeles and founded by entrepreneurs—and lifetime pet owners—Patrick McMahon and Nathan Pettijohn, is dedicated to providing premium hemp CBD pet products using all natural ingredients to support healthy and happy best friends.
"Every day, we're seeing more and more science backing the benefits of CBD for pets," said McMahon. "With GUS & BOOGIE, the furry members of our families will get top-quality CBD products packed with other all natural and whole food ingredients to keep them healthy, happy and light on their paws."
"With this launch, GUS & BOOGIE is stepping into the CBD pet product segment at a prime moment for the market," said Pettijohn. "Pet owners are hungry for these kinds of products but they're not willing to sacrifice on the kind of quality and care that are at the very heart of Gus & Boogie. We're excited for this launch, but even more for the chance to help pet owners treat their pets like family."
The launch features GUS & BOOGIE's Functional CBD Dog Treats and a Bacon Flavored CBD Dog Tincture.
The Functional CBD Dog Treats are a soy-free, dairy-free, corn-free and wheat-free soft-chew vegan treat that contains 6mg of hemp CBD per serving. With 15mg of glucosamine per serving, the treats also promote joint health. They contain no (0%) THC and does not produce any "high."
The CBD Dog Tincture, which is based in research demonstrating the benefit of CBD for pain, inflammation, nausea and seizures, contain CBD, organic hemp seed oil, and bacon flavor oil. It contains no preservatives and additives, and, like the treat, no (0%) THC.
McMahon, a former Division 1 quarterback turned entrepreneur, is an expert in the California cannabis industry who co-founded one of the first vertically-integrated fully licensed cannabis businesses in the state. A lifelong dog lover, McMahon started researching the benefits of CBD for canines and founded a large hemp farm in Kentucky. He started giving his Chihuahua, Gus, CBD on a daily basis and couldn't believe the effects it had on his anxiety and skin issues. From that experience, McMahon and Pettijohn decided to launch GUS & BOOGIE.
Pettijohn is the proud dog parent of a German Shepherd dog named Raphael and Co- Founder of GUS & BOOGIE. Pettijohn founded digital strategy firm Cordurouy in 2011 where he helps oversee digital strategies for brands and influencers; he is a talent manager, a contributing writer for Forbes on topics relating to what business leaders need to know about innovations in media and digital strategy, and he is the co-author of the #1 Amazon Bestseller, Zen and the Art of Admin Tasks, a tactical guide to outsourcing your administrative work so that you can focus on driving exponential value in your personal and work life.
---
About GUS & BOOGIE
GUS & BOOGIE was founded in 2019 in Los Angeles, California by Patrick McMahon and Nathan Pettijohn. As lifelong dog owners and dog lovers, Patrick and Nathan had searched for premium all natural products made in the United States that could improve the lives of their pets. The ideal products didn't exist so they set out to make them, with Patrick's dogs Gus and Boogie serving as the namesakes and mascots.