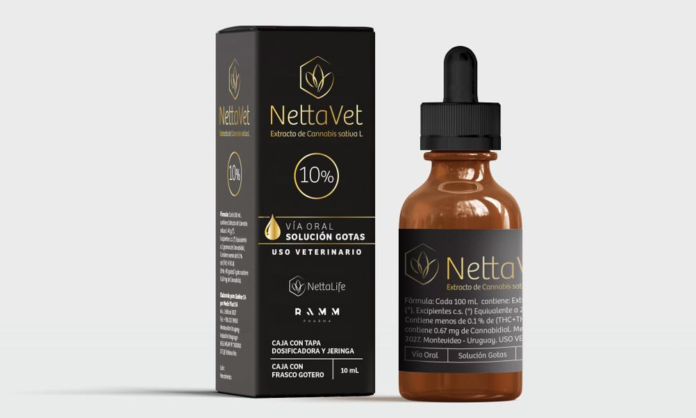 TORONTO – RAMM Pharma Corp. (including its wholly owned subsidiaries, the "Company" or "RAMM") (CSE: RAMM) (OTC: RAMMF), a leader in plant-derived cannabinoid pharmaceutical products, is pleased to announce that the Uruguayan Ministry of Agriculture, Livestock and Fisheries (MGAP) through its Veterinary Laboratories Division (DILAVE) has approved and registered NettaVet™ 10% CBD Formulation, a veterinarian pharmaceutical formulation of highly-purified, plant-derived cannabidiol ("CBD"). NettaVet™ 10% is the first CBD veterinary medicine to obtain a Federal registration as a pharmaceutical product globally.
A registered veterinary medicine is distinctly different from other products sold commercially which are typically food supplements or nutraceutical products that have not undergone stability, efficacy and/or other testing by a health agency for approval and registration. The rigorous DILAVE approval process includes testing standards which conform to domestic and international pharmaceutical requirements for registered pharmaceutical products. Production and commercial sales of NettaVet™ 10% can commence immediately. NettaLife is also in the process of obtaining approval and registration for additional formulations and has initiated clinical trials studying the efficacy of its proprietary NettaVet™ pet cannabinoid formulations for the treatment of various pathologies in animals. NettaVet™ CBD veterinary products have been under development since 2018 by the highly specialized NettaLife team.
"The approval of NettaVet™ 10% is a significant accomplishment for RAMM Pharma, offering veterinary patients the first federally approved CBD medicine to treat some of the most common animal ailments," stated Jack Burnett, Chief Executive Officer.
NettaVet™ 10% CBD is produced by NettaLife, a wholly owned subsidiary of RAMM, dedicated to the production, export and commercialization of pet products, food, pharmaceutical and cosmetic products to improve animal health and wellness. More information can be found on NettaLife's website www.nettalife.com.
Animal CBD, Pet Food & Veterinary Market Information
The Pet CBD market is expected to be USD $1.7 billion by the end of 2025, driven by more research-based knowledge on CBD's potential benefits, combined with ongoing product innovations from CBD companies. Extensive media coverage around CBD and marketing initiatives by pet CBD companies are boosting consumer awareness and demand for pet CBD products. Growth is being driven by pet owners looking for natural alternatives for pets' medical ailments, especially anxiety, pain, or other serious conditions that have not responded well to other treatments (Brightfield Group, 2020).
The global veterinary medicine market size was estimated at USD $29.2 billion in 2020 and is expected to expand at a compound annual growth rate of 7.4% from 2021 to 2028 (Grand View Research).
The global pet food market size was valued at USD $87.1 billion in 2019 and is expected to grow at a compound annual growth rate (CAGR) of 4.5% from 2019 to 2025 (Grand View Research).
About NettaVet™
The NettaVet™ team is developing a line of specialized CBD veterinary and medicinal products for animals. CBD has shown benefits in animals including pain and inflammation reduction, immune system improvement, skin and fur care and cognitive support. NettaVet™ products will offer a natural, holistic medical alternative for animal care and which we believe may produce therapeutic results for diagnosed conditions such as Idiopathic epilepsy, canine lymphoma and anxiety, without the negative side effects of traditional veterinary medications. CBD is renowned as a very well-tolerated medication and nutraceutical that doesn't produce harmful side effects. In addition, CBD-based products are believed not to damage the kidneys, liver or gastrointestinal system. This business line will synergistically leverage RAMM's pharmaceutical expertise to continue to further the development of its products which will begin being rolled out in 2021.
About RAMM Pharma Corp.
Led by renowned cannabis industry experts and backed by successful pioneers in the cannabis sector, RAMM is a leader in the field of cannabinoid pharmacology and product formulation for cannabis-based pharmaceuticals and other cannabis-based products. Founded in 1988 in Montevideo, Uruguay, the Company is a well established pharmaceutical and medical product business that has developed medically registered and approved plant-derived cannabinoid pharmaceutical products. The Company currently has multiple approved and registered products that have been authorized for sale in Uruguay and compassionate use in several Latin American countries, as well as a pipeline of new products in various stages of approval and development produced in the Company's state of the art Good Manufacturing Practice (GMP) certified cannabis formulation facility. Further to its industry leading activities in the cannabis sector, the Company operates a successful pharmaceutical, cosmetic and nutraceutical product development and medical services business which has been servicing the local market for 30 years.
RAMM Pharma Corp. includes wholly owned subsidiaries Medic Plast SA, Yurelan SA, Glediser SA and Ramm Pharma Holdings Corp.