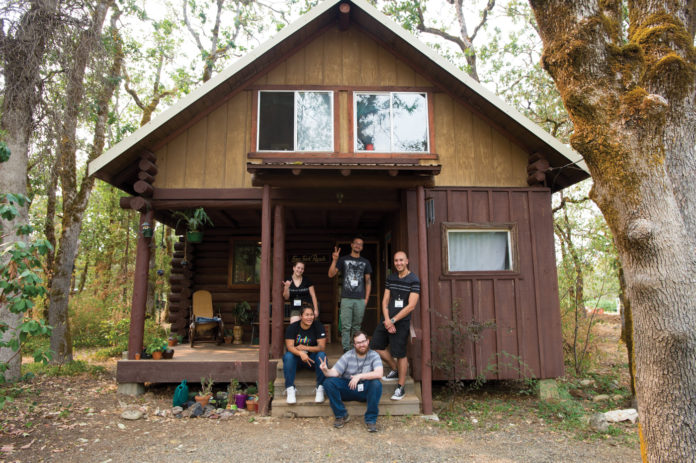 East Fork Cultivars is one of the unexpected gems found every so often in the cannabis industry but seldom in mainstream America. Located in Oregon's Illinois Valley, the farm charms with its reflection of a laid-back hippie commune vibe from the 1960s and '70s, and intrigues with its embrace of twenty-first-century science and technology. The family-owned and -operated licensed cultivator specializes in high-CBD cannabis and hemp strains, making it an even rarer find.
Brothers Nathan and Aaron Howard founded East Fork in 2015 under the Oregon Medical Marijuana Program. The farm received its adult-use license the following year. From the very beginning, the Howards focused on CBD-dominant plants, motivated by witnessing how CBD relieved the symptoms of epilepsy and other conditions suffered by their eldest brother, Wesley.
After Wesley passed, Nathan and Aaron used their grief to step up their efforts to expand East Fork and provide as many Oregonians as possible with the kind of medicine that had been so valuable to their brother. Today, the farm encompasses nearly thirty-four acres, twenty-four of which the operation acquired earlier this year.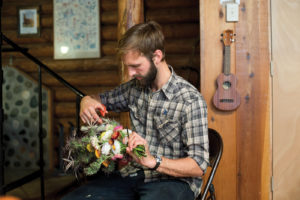 In 2017, East Fork cultivated about one acre under Oregon's adult-use system, yielding 3,300 pounds of dried and cured cannabis. The 2018 crop also comprises one acre of state-regulated plants, plus three and one-half acres of hemp under Oregon's hemp pilot program. Everything is hand-harvested, then slow-dried and preserved prior to hand-trimming. That doesn't mean there's no technology involved. The farm employs on-site gas chromatography and mass spectrometry to check its crop in addition to employing an independent lab to test for purity and potency.
The Howards and their crew take a great deal of pride in outdoor growing in an all-organic environment. Oregon's relatively short season—May through November—gives them plenty of time to engage in another passion: breeding better and more diverse plants, which they accomplish indoors year-round. In addition, East Fork makes its own branded, all-flower CBD pre-rolls developed to produce three distinct experiences. Taken together, the farm's various pursuits have allowed it to grow its reputation, staff, and client list along with the crop. The company now has a chief executive officer and provides raw material to industry heavyweights including Luminous Botanicals, Peak Extracts, O.penVAPE, Pax, Grön Chocolates, and Mirth Provisions.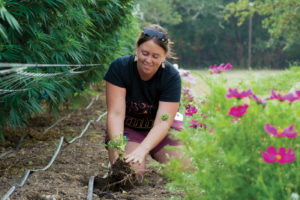 More growth is yet to come, according to CEO Mason Walker. "East Fork currently employs a team of fourteen year-round, full-time workers, though we expect to grow that number slowly over the next year," he said. Still, "we're very much a family business and actively work to normalize cannabis as the powerful, safe, plant-based therapeutic it is."
Here's what else Walker said.
Why grow CBD-dominant cannabis?
During prohibition, many components of this incredibly complex plant were ignored in favor of THC. We call this the "moonshine effect," which led to a warped genetic pool of cannabis. We see our work to breed and cultivate CBD-rich plants as restoring a chemical diversity that once existed while also pursuing new combinations of compounds that elicit new therapeutic and enjoyable effects.
There are countless talented THC breeders and growers. We feel we can add the most value to the community—and provide targeted therapeutics and effects that are missing from the shelf—by focusing on cannabis with a diversity of compounds besides THC.
Do you grow THC-dominant strains, too?
We do, though primarily for breeding purposes. We're all about chemovar diversity! We seek out THC-dominant varieties with distinct chemical profiles, then pollinate them with our stable of CBD-rich genetics in the hopes of creating new varieties with desirable characteristics from both. In 2017, 85 percent of our farm was dedicated to CBD-rich varieties. In 2018, that number will be closer to 95 percent.
We're on a mission to develop the world's most comprehensive catalog of chemically complex cannabis.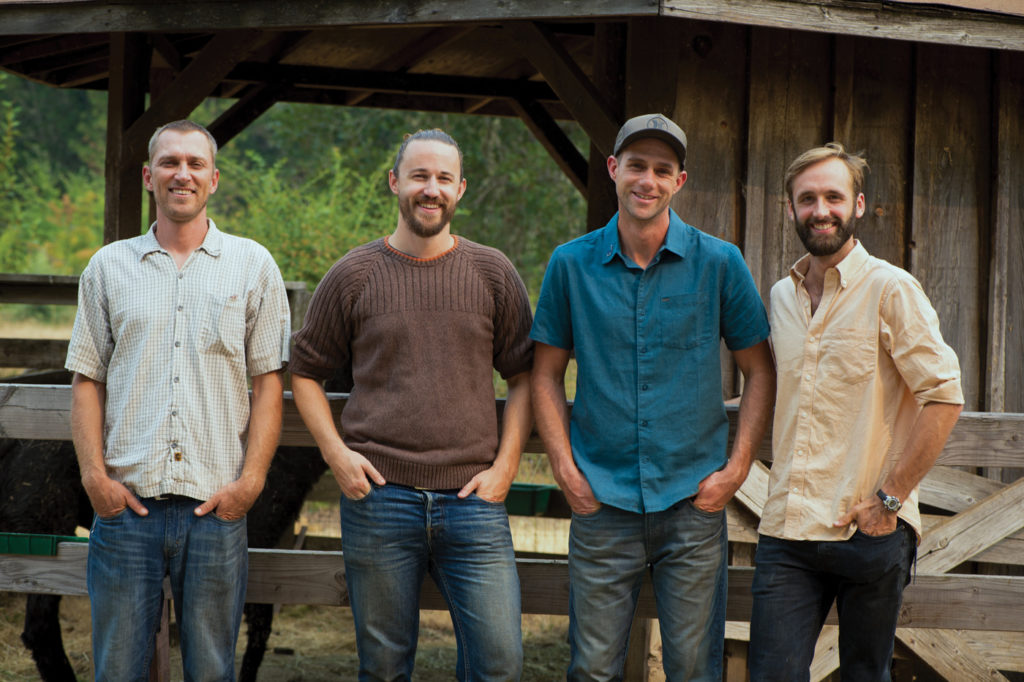 With all that breeding going on, you must have created more than a few new strains.
We've developed a number of cultivars, including Pineapple Jager and Wesley's Wish, two incredible phenotypes from the same set of parents: Jager/Purple Hindu Kush and Pineapple Tsu. High in terpenes with beautiful color, high potency, a combination of CBD and THC, and wonderful flower structure, these varieties have been favorites since they were developed in 2016. Wesley's Wish is named in honor of the late Wesley Howard.
Have you found particular CBD-to-THC ratios better than others for certain applications?
Yes, but there's a lot more at play than the cannabinoid ratio when it comes to how cannabis affects your mind and body. We use our gas chromatograph and mass spectrometry to test for cannabinoids and terpenes in the varieties we breed and grow, always in search of more chemical diversity. By taking this approach, we'll develop a catalog with varieties for every application, whether it be treating symptoms of a particular disease or creating a particular desired effect.
You're growing a hemp crop for the first time this year. Why?
Cannabis and hemp are the same plant, just referred to separately due to their breeding and legal histories. In 2018, many hemp farmers are growing highly resinous, flower-focused plants that you would look at and call cannabis, even though they legally qualify as hemp due to their low THC content. As a CBD-focused farm, we grow plants—many of which are the same variety—both within Oregon's adult-use cannabis market and under Oregon's hemp pilot program.
We're pursuing a diversity of chemovars, so we grow varieties that increasingly express that diversity of compounds. We focus on CBD because many people rely on this particular compound to improve their quality of life.
As consumers have learned more about CBD's potential benefits, sales of CBD products have increased dramatically. Is East Fork feeling that increase?
Yes. We've continually sold more CBD-rich cannabis each year we've operated. That said, it certainly hasn't been easy, or a windfall. The market remains challenging, with volatile prices, supply-demand imbalances, and a lot of poor-quality products being hawked by people trying to make a quick buck amid the hype. We've opted to grow slowly, within our means, viewing our responsibility to provide consistent, high-quality therapeutics for years to come.
Some THC-dominant growers are complaining there is "too much weed" on the market, and the excess is driving down prices. Are you experiencing a similar challenge with CBD-dominant cannabis?
Yes. The state-by-state approach to legalizing cannabis has had a lot of benefits, allowing different models to be tested. Unfortunately, the limitations of a single-state-restricted marketplace exacerbate issues like supply-demand imbalances, causing price volatility and serious hardship for folks who haven't been able to diversify and differentiate their offerings. Once interstate sales are allowed, markets will begin to stabilize, and Oregon and other Western states will benefit as a sort of "breadbasket of cannabis" for the country, due mainly to our wonderful cultivation climate, access to water, inexpensive electricity, and experienced workforce.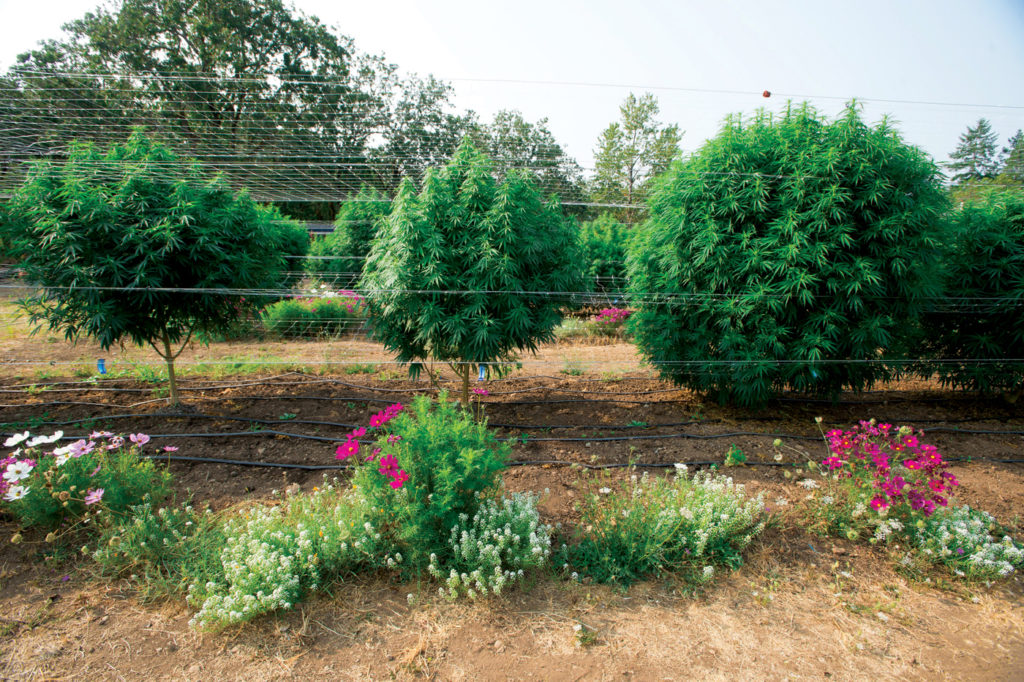 What becomes of East Fork's harvest?
We're fairly diversified, sending cannabis into dozens of channels including trimmed flower, pre-rolls, topicals, tinctures, beverages, vaporizer cartridges, chocolates, and everything in between. We work closely with twenty or so infused product companies to supply their CBD-rich cannabis. We also supply single-origin oils for infusion. The majority of our cannabis is processed for infused products, while the best quality flowers are trimmed for sale in retail shops.
What has East Fork's growth trajectory looked like?
In 2016, we grew 1,200 pounds of cannabis and employed six people. In 2017, we grew 3,300 pounds of cannabis and employed twelve people. In 2018, we expect to harvest around 4,000 pounds of cannabis, 3,000 to 7,000 pounds of hemp, and employ fourteen people. I expect we'll continue to grow, both in terms of cultivation and employment, at a slow-but-steady rate.
Some predict the CBD market may eclipse the THC market within the next twelve months. What's your perspective?
I think that prediction is likely correct, but there are so many moving parts as we continue to march closer to the end of cannabis prohibition. I think CBD offers the varied benefits of cannabis therapeutics without the "side-effect" of intoxication that comes with THC. While THC has a lot of therapeutic benefits, the gentleness and subtlety of CBD makes it far more approachable for the average person.
Does the team at East Fork use its own product?
Of course! Our team enjoys our cannabis in just about every form. For me, I prefer tinctures, topicals, and infused beverages. We have a lot of flower fans on the team, though.
What's your number-one recommendation about using CBD products?
Before making a judgment about whether or not it "works" for your desired outcome, try several different products. Cannabis is an incredibly complex plant, so be patient, start slow, and take notes. If you take your time, you're likely to find something you really enjoy or that really helps with an ailment, assuming it's an ailment cannabis therapeutics can help with.
What's East Fork's holy grail?
If a holy grail is something you're earnestly pursuing, I'd say we have two of them right now: sustainability and developing the world's most comprehensive catalog of chemically complex cannabis.
When I say "sustainability," I mean the full sense of the word. We lead with values and treat our farm as a living laboratory for the development of sustainable agricultural practices. We also believe social responsibility is a core tenet of our existence. We seek to add value to our communities and the people we influence the most, particularly our team and the cannabis community as a whole.
In addition, we're eagerly pursuing financial resilience and stability amidst a challenging marketplace, one where many operators are folding or selling for pennies on the dollar.
Photos by Kim Nguyen
---
The Cultivars of East Fork

"CBD-dominant" and "CBD-rich" do not mean the same thing. The former refers to cultivars that are high in CBD and have very little or no THC. They produce subtle, nuanced effects. CBD-rich varieties, on the other hand, may generate moderate psychoactive effects because they contain high levels of CBD with small amounts of THC. East Fork Cultivars grows both kinds of plants. These are the farm's most popular varieties.
CBD-DOMINANT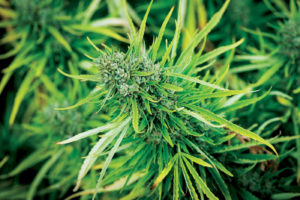 Ringo's Gift
A perennial favorite named after legendary breeder Lawrence Ringo, Ringo's Gift tests at 16.5 percent CBD, 0.6 percent THC, and 3.3 percent terpenes. Its flavor profile contains notes of allspice and black pepper.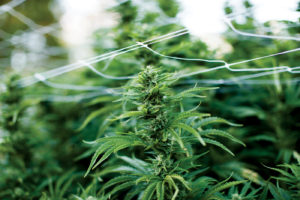 Sour Tsunami
A genetic backbone of CBD-rich cannabis—hence the "Tsu" in so many cultivar names—Sour Tsunami exhibits 15.4 percent CBD, 0.5 percent THC, and 3.5 percent terpenes. The flavor offers hints of citrus and mango.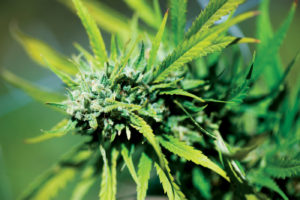 Cherry Wine
Frosty and aromatic, Cherry Wine's profile tests at 19.8 percent CBD, 0.6 percent THC, and 2.6 percent terpenes. The "sweet" palate is fruity, skunky, and piney.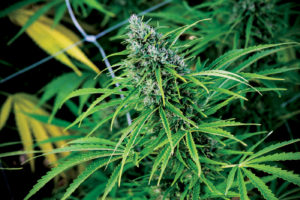 Pineapple Tsu
Not yet commercially available because field-testing isn't complete, Pineapple Tsu contains 13.7 percent CBD, 0.5 percent THC, and 3.4 percent terpenes.
ACDC
Another CBD powerhouse, legendary ACDC's 17.9 percent CBD, 0 percent THC, and 3.9 percent terpene profile contributes to the cultivar's reputation as a reliable provider of quick relief fora host of symptoms.
Cenariu
Testing at 11.6 percent CBD, 0.4 percent THC, and 2.9 percent terpenes, Cenarius tastes subtly of fruit and produces clear, mellow effects.
Harle Tsu
The folks at East Fork describe Harle Tsu as "a true CBD powerhouse." With 12.9 percent CBD, 0.4 percent THC, and 2.2 percent terpenes, its flavor profile contains notes of lemon zest.
---
CBD-RICH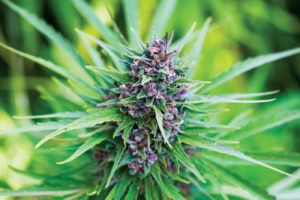 Wesley's Wish
An East Fork Cultivars original, Wesley's Wish is named for the late Wesley Howard, elder brother of East Fork's founders. The plant displays a striking, purple flower and tests at 12.7 percent CBD, 4.5 percent THC, and 3.5 percent terpenes.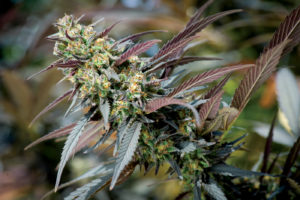 Canna Tsu
A beautiful lilac-colored plant with a multicolored swirl of a flower, Canna Tsu contains 10.6 percent CBD, 3.3 percent THC, and 2.9 percent terpenes. Flavors of tropical fruit and fresh pine needles are typical.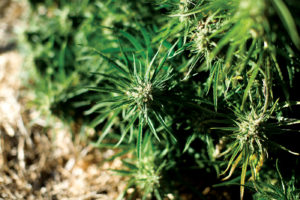 Frank's Gift
Despite its small flowers, Frank's Gift is a favorite of Oregon Medical Marijuana Program patients. Flower tests at 11.7 percent CBD, 5.0 percent THC, and 1.7 percent terpenes.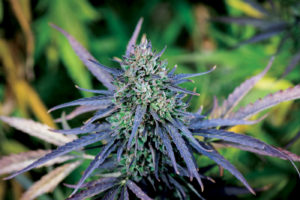 Pineapple Jager
An East Fork Cultivars original, Pineapple Jager is known for its high-terpene profile: 5.5 percent terpenes, with 14.0 percent CBD and 5.6 percent THC. The flavor displays notes of fuel and fruit.
OG 78
With 11.7 percent CBD, 5.8 percent THC, and 3.9 percent terpenes, OG 78 is a favorite for personal use among the East Fork team. They describe its effects as "uplifting" and "creativity-inducing."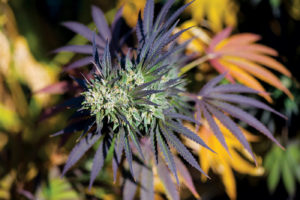 Bubba Kush
A CBD-rich phenotype of a classic, Bubba Kush contains 13.3 percent CBD, 5.9 percent THC, and 2.2 percent terpenes. With a subtly fruity flavor, this cultivar's effects are more stimulating than sedating.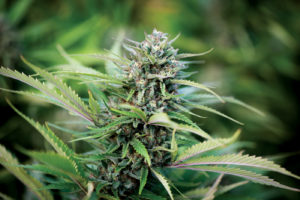 Pennywise
With a profile of 9.3 percent CBD, 6.0 percent THC, and 1.8 percent terpenes, Pennywise ages well and produces consistent effects. A complex aroma accompanies flavor notes of black pepper and licorice.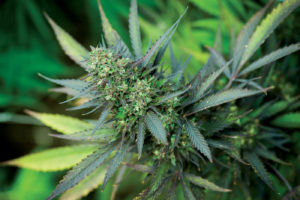 Nice Tsunami
An East Fork Cultivars original, Nice Tsunami has been described as inducing a "floaty feeling." With a profile of 12.0 percent CBD, 3.9 percent THC, and 1.7 percent terpenes, its unique nose exhibits notes of spicy vanilla chai, fuel, and citrus.
Photos by Kim Nguyen
---
The farm also produces a few THC-dominant strains, primarily for use in its breeding program. An exception is Strawberry Satori, which claims 19.6 percent THC, 0.8 percent CBD, and 2 percent terpenes. The variety is grown commercially for the Portland, Oregon, dispensary Panacea, which provides up to one-eighth ounce per day to verified Oregon Medical Marijuana Program patients who cannot afford cannabis medicine. In 2019, East Fork plans to release limited quantities of flower from hybrids created by crossing Strawberry Satori with CBD-dominant strains.