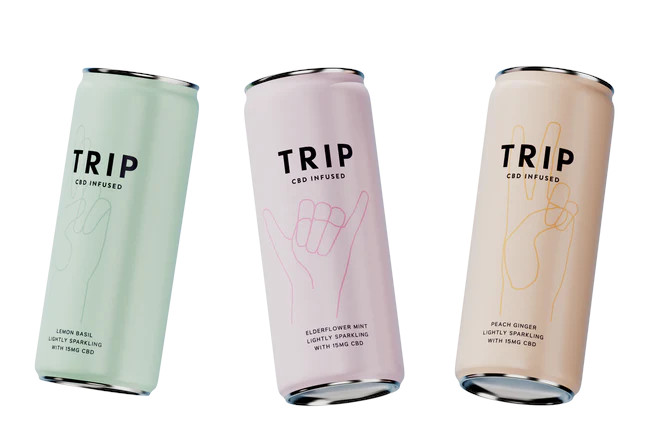 LONDON —
TRIP continues to break new ground for the CBD industry by becoming the first brand in the category to be awarded with the esteemed title of Great Taste Producer by the Guild of Fine Food. All of TRIP drinks have won Great Taste awards and TRIP has now won in three individual years, leading to the Great Taste producer accolade.
Great Taste judges celebrated the "deliciously refreshing" botanical blends, which has been a key driver of TRIP's mainstream adoption across the country. TRIP was founded with a mission to destigmatise the conversation around mental health and help millions of people #findtheircalm with delicious, game-changing, authentically functional drinks. The brand has been recognised as the "Soft Drink of the Year" by The Grocer after becoming the fastest growing soft drink in the UK (Nielsen IQ). TRIP has been a viral sensation, drawing in millions of fans with over 50m impressions on tiktok and instagram in January alone, attracting the most organic search traffic of any CBD Drinks brand globally (source: SEMRUSH).
For TRIP to be recognised against soft drinks, cocktails and alcohol alternatives is an exciting milestone in the movement the brand has created to allow people to reach for CBD to destress and unwind, whenever and wherever they need it most. TRIP boasts unique flavours with floral, herbal and citrus notes. Each flavour is packed with calming adaptogens such as ginseng, lemon balm, turmeric and chamomile. Combined with premium CBD TRIP has created an effective, functional drink that has fostered mass adoption and leading repeat rates; 94% of TRIP buyers said they would recommend it to a friend (2022 TRIP consumer survey). In the UK TRIP has 88% market share of CBD drinks (Source: Nielsen IQ) and is now the world's #1 CBD drink with twice the sales of the #2 brand from the USA (Nielsen IQ).
But why the sudden demand? Studies show that people are increasingly giving up drinking, and since most alcohol alternatives generally don't have the same calming effect, only TRIP can help people relax in a similar way, unwinding without the threat of a hangover hours later. In particular, Gen Z have made the big switch. In fact, among Generation Z – the most likely age group to be teetotal – 1 in 2 have now tried a CBD drink (Source: KAM Media and Drinkaware).
The other reason people are turning to TRIP is a renewed focus on mental wellbeing among the chaos of everyday life. Millions already find calm through the functionality of CBD drinks but to give extra support to the community at the most stressful time of the year (Source: WIRED).
Find out more at drink-trip.com.