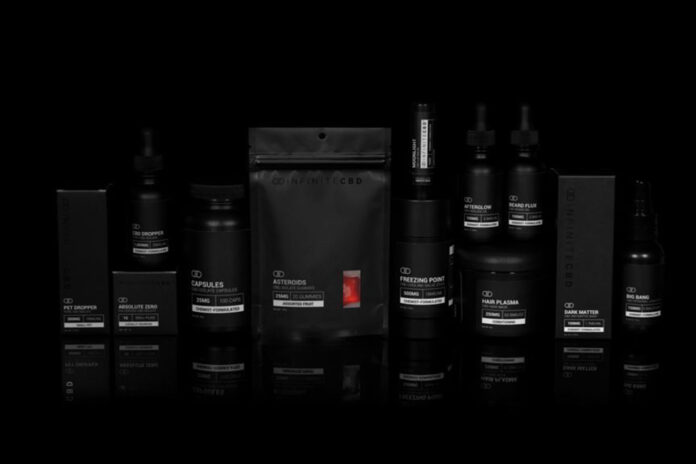 CARLSBAD, CA – New You, Inc. (OTCQB: NWYU) today announced, as disclosed in an 8-K dated May 27, entry of its wholly-owned subsidiary, ST Brands into an agreement to acquire 49% of Colorado-based Infinite Product Company, LLC, 100% owner of Infinite CBD, with an option to acquire the remaining 51% for a total of $11,000,000 in primarily NWYU stock.
Emphasizing uncompromising product consistency and purity, Infinite CBD's product line features a wide range of products that utilize all-natural ingredients, CBD isolate, Broad Spectrum CBD, and/or Nano CBD for faster results, resulting in an average 4.8-star rating across all product SKUs.
Infinite CBD produces, distributes, and sells, through direct-to-consumer and wholesale channels, dozens of products broken down into 3 primary categories: CBD isolate, broad-spectrum, and Nano CBD. Products are available as gummies, isolate droppers, and topical salves and creams.
"Since 2016, Infinite CBD has maintained a reputation for premier quality products and top customer service," commented Jason Frankovich, New You Inc. executive chairman. "We plan to apply our financial capabilities and network to help accelerate their growth, expand market share in existing markets and help their entry into new markets."
Infinite Product Company CEO John Ramsay will continue his role as head of Infinite and will take on management roles within New You, Inc.
"The vision of New You's team for the future of global CBD and for its potential in improving health and wellness is one we share and we are in lockstep in the ambitious plan for our growth," mentioned Mr. Ramsey. "We're thrilled to be embarking upon this journey together as one company."
About Infinite CBD
Infinite CBD was founded in 2016. After understanding the power of this cannabinoid, the team began working to bring it to customers around the country. Utilizing CBD and balancing the endocannabinoid system has never been as accessible and affordable.
Made with highly refined, Colorado-grown, industrial hemp, the Infinite CBD product line speaks for itself. Unique variations of CBD allow consumers to attain revitalization through their preferred method. Infinite CBD is home to a line of Nano CBD products; featuring much smaller CBD particles crafted for faster results. With a dedication to improving quality of life across the globe, this variation of CBD is catered to those who need quick attention to their problem areas. Our third-party lab results offer a public option to look into the science behind CBD isolate and how our product stands out from the competition. All Infinite CBD products are paired with individually batched testing to prove consistency and purity. https://infinitecbd.com/
About New You, Inc.
New You, Inc. (OTCQB: NWYU) wholly-owned subsidiary, ST Brands Corp is a holding company of branded assets that create, develop, market, and sell unique and proprietary cannabidiol ("CBD") products to various segments of the global consumer market.
ST Brands applies financial, operational, branding resource infrastructure to deliver turnkey business services and achieve economies of scale in sourcing, production, packaging, and sales.
The Company seeks to acquire scalable cannabis companies with the potential to become sector leaders in the legal cannabis market. We provide growth capital and expert professional oversight in exchange for stock in their company.
Brands are selected for strong unique selling propositions, strategic value to other portfolio companies and potential for ST Brands' services to enhance cash flow and/or the asset's equity value.
Products are sold through several channels, including wholesale to retailers, online direct-to-consumer, and white labeling for branded resellers. ST Brands provides its collection of brands and global resources in market research, brand creation and design, supply chain management with GMP and ISO materials, digital marketing and promotion, all to improve cost efficiency, expedite time to market, and maximizing growth in each market.
The Company seeks to capitalize on the scaling challenges facing individual CBD consumer products with solutions to issues including global branding obstacles, supply chain fragmentation, traceability, and compliance.