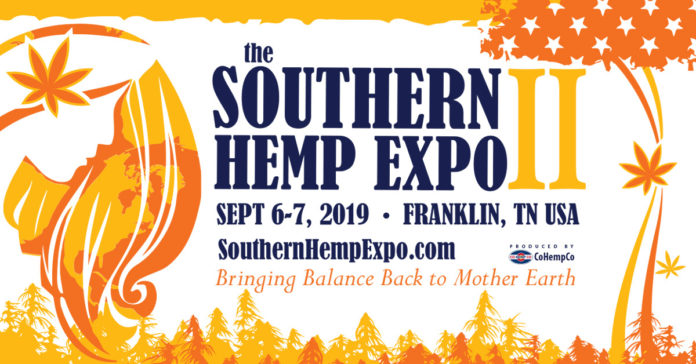 FRANKLIN, Tenn. – After a well-received inaugural event that drew more than 4,000 people last year in Nashville, the 2nd Annual Southern Hemp Expo (SHE)—a robust and program-rich trade show structured specifically for the rapidly growing industrial, nutritional, and therapeutic hemp industries—will be held at Williamson County AG Expo Park in Franklin, TN, on Sept. 6-7, 2019. Exhibit space and sponsorship opportunities for the Southern Hemp Expo are available online at SouthernHempExpo.com.
More than 5,000 farmers, entrepreneurs, investors, manufacturers, retailers, and consumers will gather at this year's Southern Hemp Expo, produced by the Colorado Hemp Company—which has been producing the NoCo Hemp Expo, the world's largest hemp industry gathering, in Colorado since 2014. The second annual SHE event is sponsored by Presenting Sponsor Blühen Botanicals, a Knoxville, TN-based producer of premium hemp extracts. In addition to serving as a leader in hemp processing and extraction, Blühen Botanicals recently opened a flagship retail hemp store in Old City Knoxville in May 2019.
Participants at the 2019 Southern Hemp Expo will learn about the exploding hemp market, which is expected to surge to more than $26 billion in sales by 2025. The Expo will feature nearly 150 sponsors and exhibitors, and more than 60 experts and leaders in the hemp industry speaking on the "Let's Talk Hemp" stage.
"The runaway success of the first-ever Southern Hemp Expo blew us away last year, and that was even before the 2018 Farm Bill legalized the production and sale of hemp and hemp-derived products across the country," said Colorado Hemp Company co-founder Morris Beegle, producer of NoCo Hemp Expo and SHE.
This year's Southern Hemp Expo will include a business and investment conference; hemp farm symposium; industry day with a business-to-business expo hall; general public day with an expo hall for consumers; workshops and demonstrations; and networking and entertainment. Attendees will receive up-to-date information about federal and state legislation and regulations, current trends in CBD and hemp supplements; the latest developments in processing, technology and innovation; certification, compliance and lab testing; and breeding, genetics, seeds and clones, and more.
"Demand for hemp today is creating tremendous business opportunities for farmers, producers, and retailers in the South and throughout the U.S.," Beegle said. "The Southern Hemp Expo serves as an important national gathering of business leaders, entrepreneurs, investors and others who are creating a market for all things made from hemp – from building materials and bioplastics to fashion, CBD supplements, cosmetics and much, much more."
Tennessee Emerging as a Hemp Powerhouse
Experts believe Tennessee, which allowed farmers to grow hemp in 2015, is on target to potentially become a top hemp producing state. In 2018, 226 farmers grew hemp on a total of 4,700 acres in Tennessee. This year, more than 2,600 farmers and businesses are licensed to grow hemp or CBD in the state, an increase of 1,100 percent in just one year. Nationwide, nearly 80,000 acres of hemp were planted in 2018, with Montana, Colorado, Oregon, Kentucky, and Tennessee listed as the five top producing states.
SHE sponsors include Presenting Sponsor Blühen Botanicals along with GenCanna, LabCanna, ProVerde Laboratories, Restorative Botanicals, CV Sciences, Vote Hemp, Key to Life, Eurofins and more.
Reasons to Attend the 2nd Annual Southern Hemp Expo:
"Let's Talk Hemp" Business Conference
"Let's Talk Hemp" Farm Symposium
Investment Strategies for Entrepreneurs
Industry Day with B2B Expo Hall
Workshops and Demonstrations & the Pono Art Zone
Farm Equipment, Tools & Machinery
Networking, Parties & Entertainment
Up-to-Date Information on Federal & State Legislation & Regulations
Current Trends in CBD & Hemp Supplements
The Future of Smokable Hemp Flower
Latest Developments in Processing Technology & Innovation
Certification, Compliance & Lab Testing
Breeding, Genetics, Seeds & Clones
Biomass, Bulk Flower, Isolate, Distillate, Full & Broad Spectrum
Retail and Wholesale Sales Strategies & More
Limited Exhibit Space and Sponsorship Opportunities Still Available, Apply Today!
Exhibit space and sponsorship opportunities for the Southern Hemp Expo are still available online at SouthernHempExpo.com.
Tickets Available Now
Business Conference, Farm Symposium, Industry and GA Tickets are now on sale at SouthernHempExpo.com.
---
---
About the Southern Hemp Expo
The Southern Hemp Expo is produced by the Colorado Hemp Company, a division of WAFBA LLC (We Are For Better Alternatives), based in Loveland, Colorado, and producer of NoCo Hemp Expo, the world's largest trade show and conference for industrial hemp. WAFBA is founder of TreeFreeHemp paper and printing services and the Colorado Hemp Company. Areas of focus include product and brand development, event production, consulting and advocacy. Learn more at SouthernHempExpo.com.