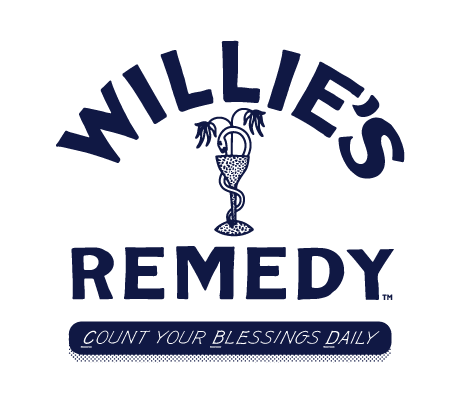 AUSTIN, Texas – The hemp wellness brand Willie's Remedy, from the company co-founded by musician Willie Nelson and wife Annie Nelson, is releasing two new products: Willie's Remedy Relief Balm and Willie's Remedy Tea. Meanwhile, Willie continues headlining the 17-city Outlaw Music Festival tour and celebrates the release of his new studio album, Ride Me Back Home.
These new offerings, infused with full-spectrum hemp oil, arrive close on the heels of the brand's resoundingly successful debut of its flagship product, Willie's Remedy Coffee, and Willie's Remedy Hemp Oil Tincture.
"Willie's Remedy is all about giving people easy access to the healing benefits of hemp in the same way we look to other plants for wellness," Mrs. Nelson said. "By expanding our product line to include a topical, tea and decaf coffee we hope to bring this amazing plant to new audiences."
Willie's Remedy Relief Balm is inspired by a cannabis topical that Annie Nelson created in her kitchen and has used for years, along with her husband, his band and numerous friends. Carefully formulated to enhance the effectiveness of every one of its ingredients, the muscle balm contains shea butter, coconut oil, and full spectrum hemp flower oil concentrate, as well as menthol, plant-derived Vitamin E, organic lavender and CO2-extracted arnica concentrate.
"Studies have shown hemp compounds have the ability to reduce inflammation," Mrs. Nelson said. "So whether you're a touring musician who plays 100 shows a year or someone with regular garden-variety aches and pains, this balm is a great plant-based essential."
The two varieties of Willie's Remedy Tea were created in response to the enthusiastic reception for the brand's hemp-infused coffee, which now offers a decaf version as well. The coffees and teas are infused with full-spectrum hemp oil and contain no isolates or additive ingredients.
"Just like our coffee, our teas are pure plant beverages," Mrs. Nelson said. "The infusion process to add the hemp extract to the tea is all-natural, with no added chemicals, preservatives or binding agents."
Each 3 oz. package of tea is infused with 300 milligrams of full-spectrum hemp oil, and makes about 28 servings for around 10 milligrams per cup. The green and black teas can be served hot or iced, each cup helps to bolster the body's endocannabinoid system with naturally occurring hemp cannabinoids and terpenes.
"Everything we create for Willie's Remedy, we use," Mrs. Nelson said. "We're believers in the therapeutic power of plant-based wellness, and of bringing hemp compounds into our daily diet. All of these products are made to support health and complement a life well-lived."
All products are available online and at select stores beginning in July.
Willie's Remedy is a sponsor of the Outlaw Music Festival Tour, the packed lineup's second leg begins in September and features Robert Plant & the Sensational Space Shifters, Luke Combs, Bonnie Raitt, The Avett Brothers, Nathaniel Rateliff & The Night Sweats, Alison Krauss, Gov't Mule, Brothers Osborne, and Lukas Nelson & Promise Of The Real.
---
About Willie's Remedy
Willie's Remedy is a line of hemp-based wellness products inspired by pioneering musician and activist Willie Nelson and his wife, Annie Nelson. Willie's Remedy hemp-infused products are non-intoxicating and feature full-spectrum hemp oil extract made from crops organically grown by American farmers. Willie's Remedy brings together the Nelson family's commitment to supporting American farmers and environmental stewardship, while offering consumers simple ways to access the health benefits of hemp. Willie's Remedy joins sister brand Willie's Reserve, a separate line of licensed THC cannabis products.
Willie's Remedy and Willie's Reserve brands are owned and operated by GCH Inc., a cannabis consumer products company founded with Willie Nelson to develop a portfolio of cannabis brands. For more information about GCH Inc. and future plans, please contact [email protected].