Cannabidiol, or CBD, is a potent anti-inflammatory, which could mean help for many who have a little too much fun in the sun this summer.
CBD is the newest "it" ingredient in cosmeceuticals and is being added to lots of different health and wellness products–especially skincare, including sun protection and after-sun care products. While many products promise they will protect and hydrate the skin, products infused with CBD oil appeal to anyone that wants to work CBD into their wellness routine. Topical application offers faster delivery through absorption via endocannabinoid receptors located in the skin, than ingesting a oral or edible CBD formulation that must be absorbed through digestion.
In addition to anti-inflammatory effects, CBD oil is also said to be an antioxidant, rich in Omega 3 and 6 fatty acids. It also has antiseptic properties.
Here's seven skincare potions that utilize CBD oil derived from hemp, with less then 0.3 percent tetrahydrocannabinol, or THC (the psychoactive ingredient in cannabis). Slather on as much as you like and feel the well being without the buzz.
These products should do good things for your skin and are really fun for summertime: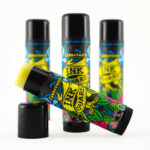 CannaSmack SPF 30 Ink Guard–UVA & UVB protection for your tattoo and helps minimize color fading when exposed to the sun. These SPF 30 sticks are enriched with premium hemp seed oil with a light formulation that moisturizes the skin. This easy-to-use stick applicator allows on-the-go tattoo coverage for all those summer events. At CannaSmack.com.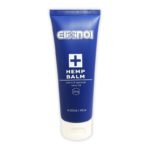 Elixinol CBD Hemp Balm–This topical CBD skin balm soothes and can help rejuvenate skin. Formulated with all-natural ingredients, this balm formulated to offers protection and deep moisture. Made with whole-plant CBD extract; not an isolate. This all-plant topical is non-greasy and free of synthetic chemicals. Formulated with synergistic herbal extracts to support and fortify known benefits. Safe for all skin types, at Elixinol.com.
SunnyDaze CBD Glitter Sun Cream with SPF 30 –All-natural, fragrance-free sun cream with added hemp-derived CBD isolate and glitter. Whipped throughout, the glitter is made from plant cellulose and naturally biodegradable. Sun-safe and eco-friendly, this fun product is perfect for all day, and then for evening fireworks. Available in two, four, and eight ounce sizes, at FelixandAmbrosia.com.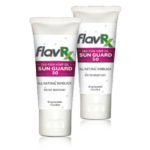 FlavRx SPF 30 and SPF 50 Sun Guard – All-natural purified cannabinoids infused with unique terpene blends create our extensive line of vape products. Made with naturally derived ingredients, this formula nourishes the skin while safeguarding it from the damaging effects of the sun, including premature aging from sun exposure. Water-resistant, from FlavRx.com.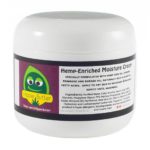 Hippie Butter Hemp Oil Moisturizing Cream–Hypoallergenic and formulated with hemp seed oil, as well as evening primrose and borage oils. Naturally rich in essential fatty acids, this moisturizer is rich, creamy, and absorbs quickly without greasy, leftover, oily residue. Loaded with added Vitamins A, D3, and E to help prevent premature aging due to harmful environmental conditions and free radicals. Provides nourishing moisture to dry, chapped, or sensitive skin. From HippieButter.com.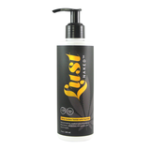 Lust Naked™Hemp Sunless Tanner with Peptides–Get a healthy, natural-looking medium glow with this blend of botanical extracts, hydrators, and peptides. Sunless tanning prevents damaged, aged, and pigmented skin from exposure to the sun's UV rays. Ingredients include organic hemp seed oil, apple fruit extract, apricot extract, vanilla extract, Arabica coffee seed extract, and coconut extract. Streak-free color develops in three hours. At HydroKitty.com.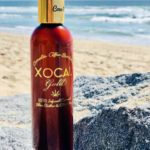 XOCal Gold CBD After Sun Lotion–A natural alternative to chemical-rich formulas that add fillers, alcohol, and dyes. Unnatural colors and fragrances can irritate and dry out delicate skin that has been overexposed to the sun. This after sun lotion is light, emollient, and deeply moisturizes while skin is revitalized by CBD-infused coconut oil, pure Shea butter, and aloe vera. This Vegan-based formulation also contains oleic acid-rich California avocado oil, for ultra-hydrating effects. At XOCalNaturalOnline.com.