We all know how difficult it is out there right now. While it sounds cliche, terrible times often bring out the best in people. But for an industry whose success is built on compassion, we are not at all surprised to read about the heartwarming stories from CBD makers and the impact they are having in their communities.
Keep Crazy Calm and carry on
Crazy Calm is donating all profits from online sales through the end of April to Direct Relief, a nonprofit working to provide protective equipment to healthcare workers. "In the U.S., Direct Relief is delivering protective masks—along with exam gloves and isolation gowns—to health care organizations in areas with confirmed COVID-19 cases," Crazy Calm said in a release.
Kat's has your back
Healthcare and grocery workers have been keeping our country functional during the pandemic. Kat's Naturals is offering 5ml bottles of its Relax and Metabolize products to workers in grocery and healthcare industries. We know nothing makes up for the long hours and potentially dangerous situations these workers find themselves in, but we hope they can get a little bit of time to decompress with Kat's Naturals.
Bluebird is the word
Avoiding illness due to COVID-19 is not the only concern we are all dealing with. Most industries are reeling from the economic damage the virus has caused. Thankfully, Bluebird Botanicals is offering discounts to those who have lost their jobs due to the coronavirus. These discounts are in addition to the regular discounts they offer to veterans and patients.
Live free with Woodstock CBD
With all of the complex data and theories out there, washing our hands remains one of the best approaches to avoiding the coronavirus. Woodstock CBD is offering free hand sanitizer to anyone who signs up for the company's newsletter (no purchase is necessary). By signing up, you'll also be helping out someone else. Woodstock will donate a free bottle of sanitizer to first responders, hospitals, and residents of nursing homes for every new subscriber.
EcoGen to provide economic relief for hemp farmers
Downturns in the economy always seem to be particularly hard on farmers. EcoGen will buy back harvested hemp crops at fair market value from farmers who bought seeds from them. "We understand the needs of our customers and have so much confidence in our seeds that we plan to stand behind our products all the way from planting to harvest," said Alexis Korybut, co-founder and chief executive officer for EcoGen.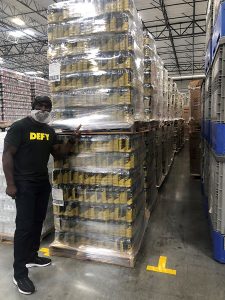 Former NFL star Terrell Davis gives back
Colorado-based CBD sports drink brand DEFY, founded by NFL Hall of Famer and former Denver Bronco Terrell Davis, will donate $400,000 of DEFY branded wellness products to nonprofit Feeding America, including 50,000 bottles of DEFY, which would be distributed to the nonprofit's centers in Chicago, Los Angeles, New York, and Detroit.
Davis, a former Super Bowl MVP, told FOX News, "It's about leading by example. We're trying to step up at a time when people are really in need."
Nu-X Ventures offers free hand sanitizer in Los Angeles
California CBD product producer Nu-X Ventures has begun delivering bottles of free hand sanitizer to Los Angeles, with its new Project Blue Horizon program. The first shipment was delivered to UCLA Ronald Reagan Medical Center last week. LA residents who would like to receive free 30ml bottles (limit ten bottles per household), should visit the Nu-X website here.
"Any company that uses this time as an opportunity to profit from products that are indispensable towards efforts to fight COVID-19 are misaligned," said Nu-X Senior Director Lorenzo De Plano. "We see an opportunity to contribute and help and we will do whatever is in our power to do exactly that. We hope other companies with the capacity to do so will do the same."