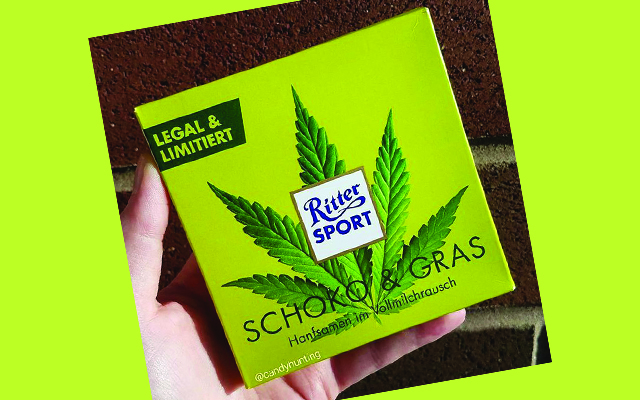 BERLIN–European confectionery company Ritter SPORT came out with a limited edition hemp seed bar on 4/20, in a nod to the cannabis culture's unofficial international hemp holiday.
"This is a great example of an enlightened major player who understands the potential for hemp in foods," said Daniel Kruse, chief executive officer at Hempro Int., GmbH & Co. KG, Dusseldorf, in a press release. The company provided the hulled and roasted organic hemp seeds for the "Schoko & Gras" bars.
Packaged in bright green, with a marijuana leaf pattern and "legal and limited" labeling, Ritter SPORT pointed out that though hemp seeds are cannabis, they do not contain THC–the psychoactive compound in whole plant cannabis–and would not cause confectionery consumers to catch a buzz. The bars, unlike cannabis-infused edibles containing THC, also could be marketed in mainstream venues, like Ritter SPORT's shops, and add to an increasing trend for food products that included hemp seeds or derivatives.
Available online, and in Berlin and Waldenbuch (the German cities where Ritter is headquartered and have shops), the bars were reportedly sold out by April 23 or 24, though there maybe sellers on sites like eBay for hardcore candy collectors. The company has not restocked.
"New Schoko & Gras (Chocolate & Grass) Ritter Sport bars are out in Germany! No THC here, though. It's just hemp seeds, so it's 100% legal. But it's still awesome to see larger companies taking risks like this…" tweeted @CandyHunting.
Currently touted for their health benefits, hemp seeds are a rich source of linoleic acid (omega-6) and alpha-linolenic acid (omega-3), as well as gamma-linolenic acid (which may reduce inflammation) and Vitamin E. Protein makes up 25 percent of hemp seeds composition and they're also a good source of healthy fats and minerals, including phosphorus, potassium, sodium, magnesium, sulfur, calcium, iron, and zinc. Whole hemp seeds aid digestion and are a good source of fiber.
Ritter SPORT, founded in 1912, is known for its signature square bar, that was designed to fit in consumers' pockets in 1932. Since then, Ritter SPORT bars come in a variety of flavors and specialty editions, typically packaged in bright-colored wrappers. The line also includes chocolate mini squares, cubes, bars, boxed, and holiday chocolates.
Ritter SPORT uses sustainably grown cocoa from its own plantations in Nicaragua, adding organic products to the line in 2008. Their factories support alternative energy and environmentally conscious production policies and standards. The company currently has 1,500 employees, and their products are available in 100 countries.
Video courtesy W&V.