There has been a flurry of athletes endorsing or joining the CBD industry lately. Below is a quick roundup of some of the recent high-profile athletes praising CBD's benefits.
Megan Rapinoe
Megan Rapinoe, a star on the U.S. Women's National Team and 2019 World Cup Champion, certainly must have her fair share of endorsement opportunities. In what may be a telling sign, she recently became the first sponsored athlete for Mendi, a CBD producer with a line of topicals, gummies, and gel caps. She joins her sister Rachael who is an executive at Mendi. 
"As a tool, CBD has been integral in Megan's training and recovery program for the past few years," Rachael said in a press release. "She's seen the massive potential for more people to adopt CBD into their recovery regimens and saw a need to do something about it by partnering with us to make sure we do it right."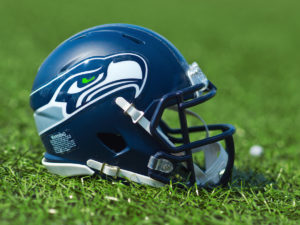 Lofa Tatupu
Former Seattle Seahawks player Lofa Tatupu is making a splash in the CBD industry. The National Football League (NFL) Pro Bowl linebacker has launched ZoneIn, a company founded to provide athletes with recovery and training benefits. ZoneIn also features former New England Patriots' linebacker Dane Fletcher and professional golfer Jim Renner as brand ambassadors. 
"The brand, everything, it's been a brainchild of mine ever since the first time I took full-spectrum oil," Tatupu told SeattlePI. 
Besides creating a brand that stands out, the former football player is looking to create camaraderie with a new team through ZoneIn.  
"The mission is to just create a community, create a tribe, that just believes in one another and puts out positive energy and continues to just do well by others and continue to push the health and wellness journey."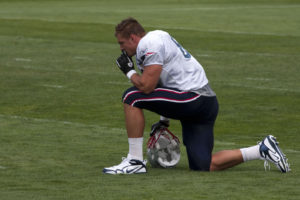 Rob Gronkowski
Rob Gronkowski, as he often does, made some bold comments recently. This time, they were in regards to CBD and the NFL. The retired but maybe not so retired tight end has previously hinted about a potential NFL comeback aided by recovery compliments of CBD use. Gronk, who has endured lots of physical punishment while playing in the NFL, relies on CBD for recovery and is hoping the organization will reverse its ban on the cannabinoid. The NFL does not even allow hemp-derived CBD products to be used by players, making its policy stricter than the federal government's stance. 
"I don't want to be banned from playing the sport I love because I'm using a product that anyone can buy right off the shelf at their local pharmacy," Gronkowski said at a press conference. "I'm not really sure why it's banned."
Gronkowski, who became a member of the CBD industry over the summer through an announced partnership with CBDMedic, offers a grounded take on the benefits of CBD.
"I'm not saying you put this on and you're going to be healed, that it's a miracle," Gronkowski said. "But you can apply this and it'll help manage the pain, and then you can get treatment and it'll be a lot less stressful to the body."
Gronkowski did not just hold a press conference to ruffle the NFL's feathers over its substance policy. CBDMedic will now have its logo prominently featured on the water tower at Patriot Place, a large retail area close to Gillette Stadium that also serves as a popular pre-game destination for football fans. The property is owned by The Craft Group, a company that also happens to own the New England Patriots.
"Our core mission is to help Americans in pain with science-based products that are safe and effective, and we're delighted to have the support of Gillette Stadium and Patriot Place," Perry Antelman, chief executive officer at Abacus, the maker of CBDMedic said according to Forbes. "We're pleased to work together to promote CBD as a recovery solution."
NFL policy does not allow CBD promotion on stadium grounds, so a prominent logo placement at Patriots Place seemed to be the best alternative for CBDMedic and the Patriots.
"We are happy to partner with Abacus and Rob Gronkowski to use our brand and location to promote pain management alternatives to guests of Patriot Place and Gillette Stadium," Murray Kohl, vice president of sales for Gillette Stadium said. "We look forward to working with them on initiatives that will positively impact our communities."