Ruminating about the stock market? Coronavirus pandemic? Tax season? What could go wrong? Let's face it, anxiety is a pretty common complaint these days, with some 18 percent of the U.S. population suffering from an anxiety disorder and, in a 2019 U.S. study, 40 percent of those surveyed reporting that they feel increasingly anxious.
Modern life is hectic, but that doesn't mean we have to lose sleep. With the expanding legalization of cannabis and hemp, there are ever-increasing options for insomniacs who want to avoid prescription medications or try a more natural way to encourage good sleep.
There are a lot of CBD products that claim to help with sleep—too many to list here. The cannabinoid's anti-inflammatory properties help to relax both mind and body, according to natural health practitioners. But some experts recommend adding cannabinoid THC to CBD products for maximum efficacy. This allows the tetrahydrocannabinol (aka THC) to enhance the effects of CBD, resulting in more effective relief.
Included in this Sleep Awareness Week roundup are vendors that produce a selection of either CBD-infused or THC-infused sleep products, or formulas that contain both CBD and THC—some traditional and others decidedly unique.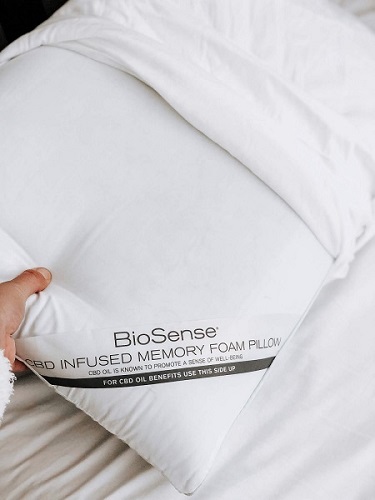 Available online at Bath, Bed & Beyond and other retailers, the Brookstone CBD Oil-Infused Bed Pillow is, as its name implies, a memory foam pillow infused with CBD oil. Comes with a removable, washable cover, in standard size, with medium support that's "perfect" for back sleepers. The pillow also comes with a five-year extended warranty. Currently priced at $29.99. BathBedandBeyond.com.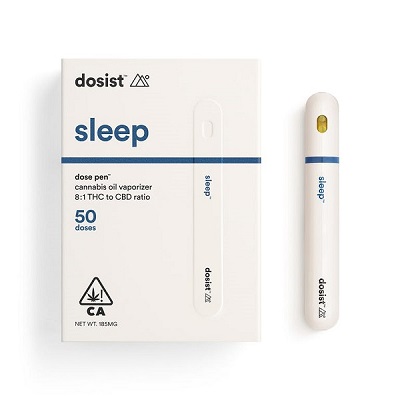 This simple-to-use dosist Sleep Dose Pen is a disposable vape formulated with sleep-inducing THC and CBD in an eight-to-one ratio, respectively. The Sleep formula pen delivers precise dosing, which measures a 2.5mg dose per puff. After using Sleep, "I wake up with the energy needed to keep pace with my teenage son, my work life, and the rest of the wild world around us," said customer Steve in an online testimonial. Available in fifty and 200 dose sizes. Dosist.com.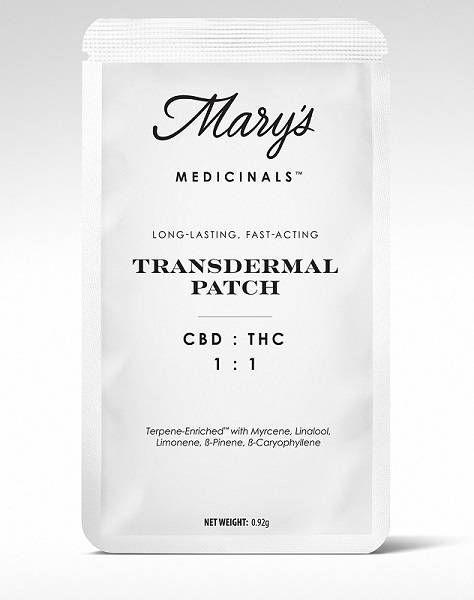 For sustained relief and relaxation, Mary's Medicinals Transdermal Patch delivers eight to twelve hours of "unsurpassed systemic relief." Placed on an area like the inside of a wrist or top of the foot, the patch releases a constant and consistent level of dosing, which can help to relieve pain and inflammation that may be interrupting sleep or simply induce deeper, more satisfying rest. Available in "THC, CBN, THCa, Indica, and Sativa," as well as a CBD-only patch from sister company Mary's Nutritionals. Available in Colorado and Illinois. MarysMedicinals.com.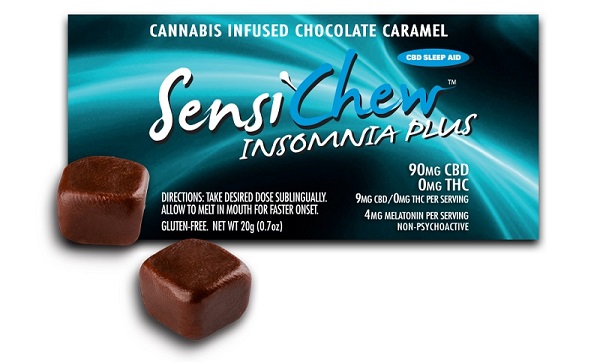 Sensi Chews Insomnia Plus CBD + Melatonin chocolate caramel-flavored chews contain 4mg CBD per piece and trace amounts of "THC, CBC, CBN, CBG, THCV, and other whole plant cannabinoids," from full-spectrum cannabis extract. The addition of sleep regulating supplement melatonin makes this formula specific to issues with insomnia and jet lag, but also helps to "reduce inflammation, relieve pain, calm anxiety, and enhance mood." Available in California. SensiProducts.com.
Brand new from the team at Yummi Karma, these high potency Beauty Sleep CBD Drops pack 20mg of full spectrum CBD per dose, and 600mg per bottle, for anyone that needs their beauty sleep. Other ingredients include "passionflower, jujube, and magnesium to help you go from night to goodnight." Non-psychoactive, so no worries for those trying to avoid a buzz, though Yummi Karma also offers award-winning THC-infused tinctures, as well. Available in California. YummiKarma.com.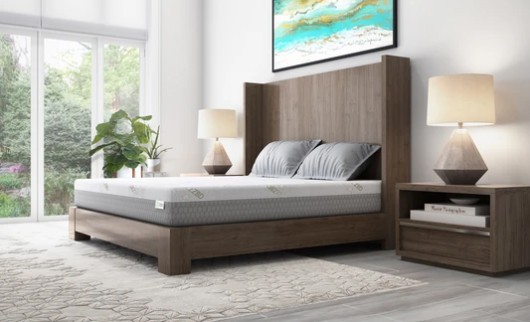 ZBD Bed said of its hemp-derived CBD-Infused Mattress, "CBD is infused into the mattress cover using micro-encapsulation. There is 48mg of CBD in each microcapsule and twelve grams of microcapsules are applied to the fabric of the mattress per square meter." Mattresses come with a 100 night trial, ten-year limited warranty, and free shipping. A ten-inch, twin size mattress is $899.00 MSRP. Available in sizes up to California King. ZBDBed.com