The holiday season is fast approaching, bringing with it opportunities for eating, drinking, and making merry, not to mention gift-giving. Though the pandemic may put a bit of a damper on get-togethers, food and gift-giving undoubtedly will remain important.
With the right product mix, CBD retailers can cater to both holiday traditions while they help their customers deal with the double-whammy of holiday- and pandemic-induced stress.
What will consumers seek this year? According to BDSA's Consumer Insights, edibles will be at the top of a good many lists—for recreation, medication, entertaining, and gifting. Infused chocolate is a perennial favorite, and BDSA data indicate gummy candy and baked goods are popular as well, possibly because they resemble familiar non-infused treats. Sixty percent of edibles consumers report consuming gummies and 46 percent report consuming baked goods.
"Other ingestible products offering familiar form factors are becoming increasingly more common and popular," a recent BDSA report revealed, noting 8 percent of survey respondents reported consuming chewing gum (up from 5 percent in 2018), and 5 percent reported consuming powdered drink mixes (up from 2 percent). Sparkling and carbonated waters also are growing in popularity, with respondent interest increasing from 3 percent to 5 percent over the past eighteen months.
With the data in mind, we've put together a holiday stocking guide to help retailers add sparkle to their shelves and profits to their balance sheets.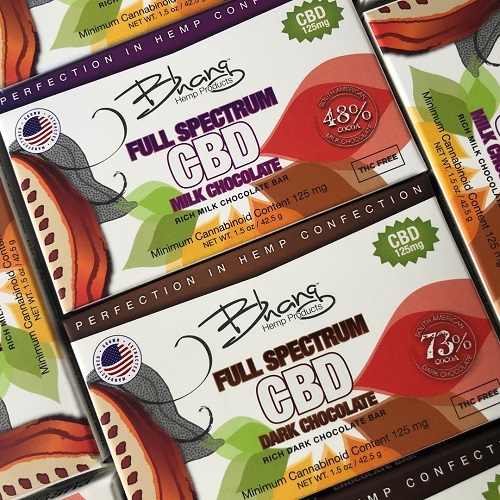 Bhang Chocolates
Developed by a master chocolatier, Bhang's award-winning chocolates are a perennial consumer favorite. Formulated with 120mg or 250mg full-spectrum, U.S.-grown, C02-extracted hemp oil in both milk and dark chocolate, each bar is crafted with cocoa butter, cocoa solids, sugar, vanilla, and lecithin. Twelve servings per bar. BhangCBD.com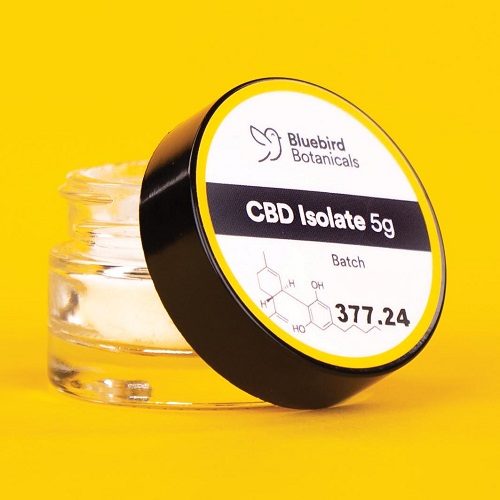 Bluebird Botanicals CBD Isolate
Manufactured according to the FDA's current Good Manufacturing Practices (cGMPs), Bluebird Botanicals' CBD isolate is 96 percent to 99.9 percent pure, according to third-party lab tests. The odorless, flavorless clear crystals are derived from organic hemp sustainably grown in the United States. Lab-verified potency and terpene profile; free of residual solvents, microbes, mycotoxins, heavy metals, and fertilizer residue. 1,000mg CBD per gram. BluebirdBotanicals.com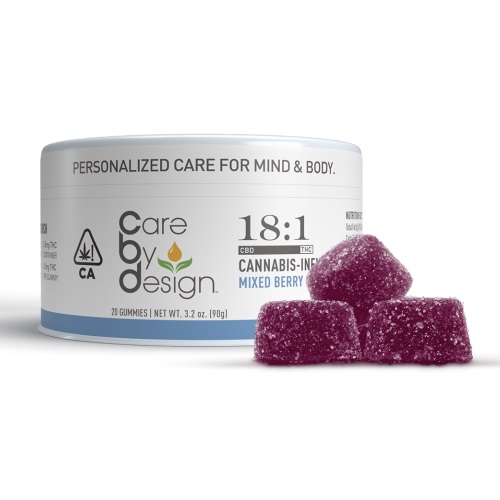 Care By Design Gummies
Crafted from CBD-rich cannabis oil, Care By Design's mixed berry gummies combine natural fruit flavors with sugar, tapioca syrup, water, pectin, and citric acid to create the taste of blueberries, blackberries, and raspberries on the palate. 18:1 CBD-to-THC ratio creates the entourage effect with little to no psychoactivity. Twenty pieces are packaged in each 3.2-ounce container. Available in California and Colorado. CBD.org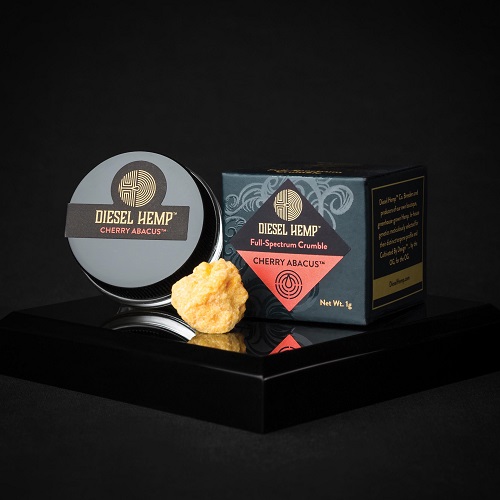 Diesel Hemp Full Spectrum Crumble
Diesel Hemp's crumble (aka wax) is made in-house. Derived from cultivar-specific hemp flower, the product exhibits a full-spectrum terpene profile without any additional processing or refining of the oil. No synthetic terpenes or other additives are incorporated. Available in one-gram jars of Abacus Diesel, Cherry Abacus, and Spec7. DieselHemp.com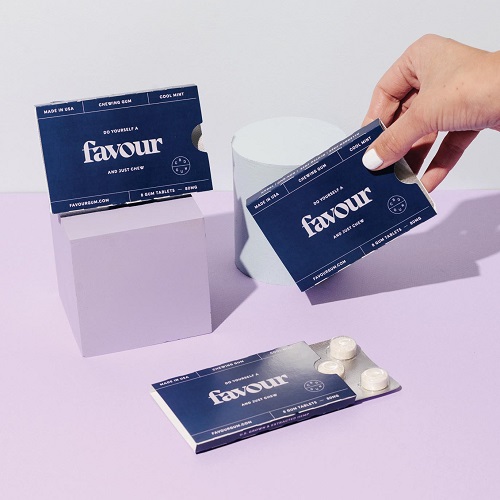 Favour Chewing Gum
Three women teamed up to create Favour using a CO2 extraction process and American-grown hemp. The gum delivers effects up to five times faster than pills or liquids and is easy to transport and use discreetly. Favour is sugar-, allergen-, and gluten-free; non-GMO; and kosher. 10mg CBD per piece; eight pieces per pack. FavourGum.com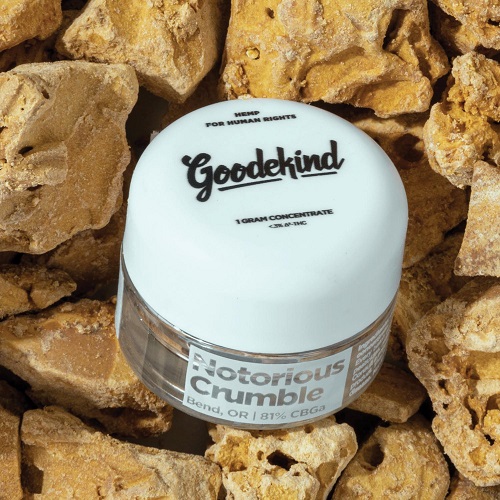 Goodekind Notorious Crumble
For dabbing or as a bowl topper, Notorious Crumble induces euphoria uncommon in hemp products. The crumble has a pungent, potent aroma and flavor: Notes of clove and black pepper give way to eucalyptus, ginseng, and ginger. Each gram tests at 82 percent CBGa. An eighth of the company's profits fund human rights initiatives in the U.S. Goodekind.com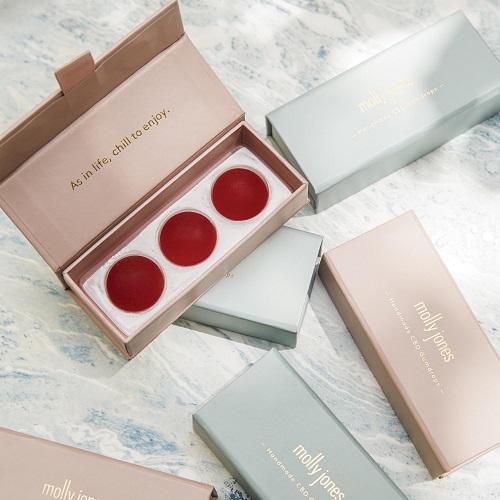 Molly Jones Gumdrops
Luxury infused confections company Molly Jones offers quality and authenticity in its small-batch, handcrafted gumdrops. Packaged in an elegant candy box, each confection is made from simple ingredients by a local chef to ensure consistency. Available in three- and nine-piece packs in flavors including berry, lemon lavender, and plum cardamom; 25mg or 50mg CBD per gumdrop. MollyJones.com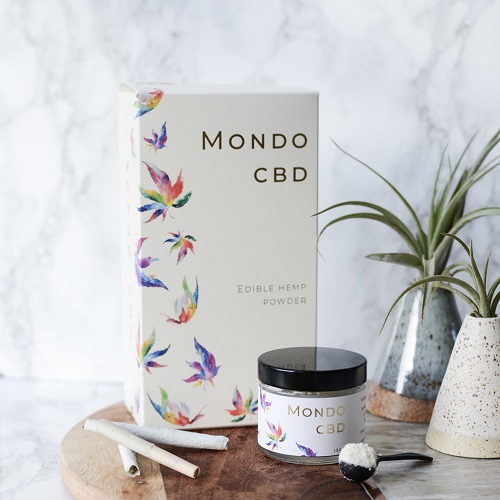 Mondo CBD Powder
A nearly tasteless cannabis-infused powder derived from cacao butter and coconut oil, Mondo's sugar- and gluten-free CBD formula easily dissolves in food and beverages and may be used in cooking and baking. Made from broad-spectrum extract with theanine added for pain relief and mood elevation. Each dose contains 5mg CBD and 10mg theanine; thirty doses per container. MondoCBD.com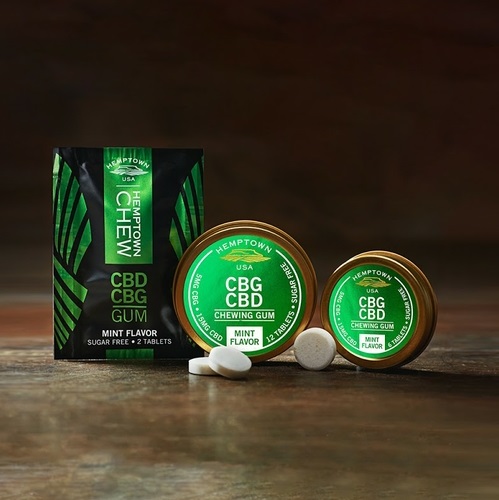 The Original Hemptown Chew
Hemptown's sugar-, gluten-, and calorie-free chewing gum delivers 15mg CBD and 5mg CBG per piece. The mint-flavored gum is available in packages containing two, six, or twelve tablets crafted from natural ingredients including hemp raised on a 600-acre Oregon farm. Suggested dose: one to two pieces. HemptownUSA.com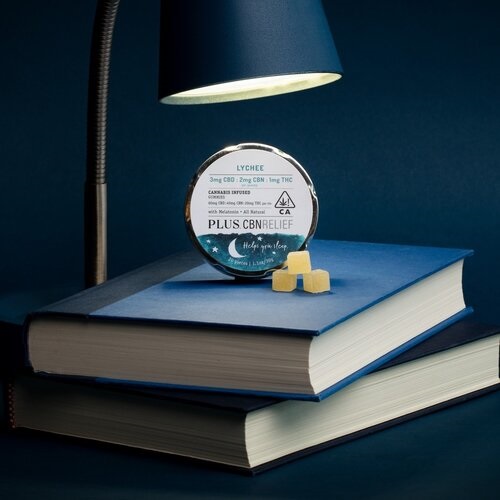 PLUS Sleep Gummies
Part of the PLUS Sleep product line, CBNRelief Lychee gummies contain 0.5mg melatonin, 2mg CBN, 3mg CBD, and 1mg THC to create the entourage effect with little to no psychoactivity. Formulated with all-natural flavors and colors. Five calories and 0.7 grams of sugar per serving; twenty servings per tin. Available in California and Nevada. PlusProductsTHC.com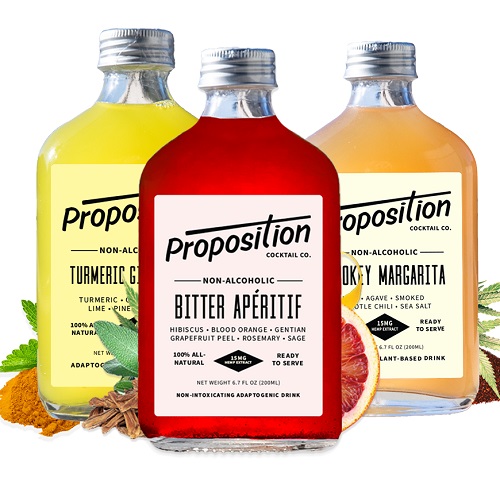 Proposition Cocktails
Bottled in 200ml glass flasks reminiscent of the Prohibition era, Proposition's cocktails contain a 15mg hit of CBD but no alcohol. In three flavors: Turmeric Ginger Mule (adaptogenic turmeric, ginger, and citrus); Bitter Apéritif (hibiscus, blood orange, grapefruit, rosemary, and sage); and Smokey Margarita (lime, mint, smoked chipotle chilis, and sea salt); packaged six bottles to a case. Serve over ice or use as a mixer. PropositionCocktail.co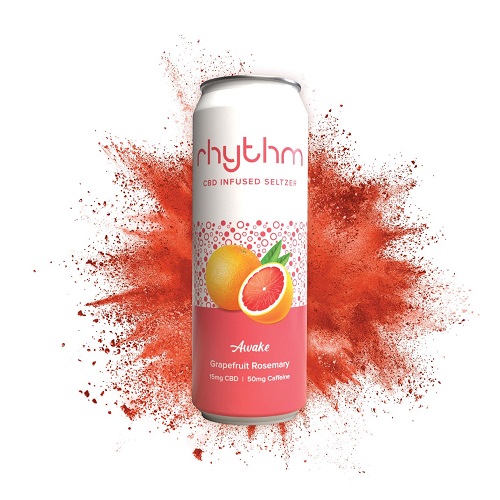 Rhythm Seltzer
Crafted by a musician turned sommelier and a professional chef, Rhythm seltzers are infused with 15mg CBD using Vertosa's emulsion technology to customize dosage, onset time, taste, and color. Available in Awake (grapefruit, rosemary, and 50mg caffeine) and Dream (blackberry, lavender, and 5mg melatonin), the beverages are vegan, gluten-free, non-GMO, and keto-friendly. Five calories per serving; no artificial sweeteners. DrinkRhythm.com