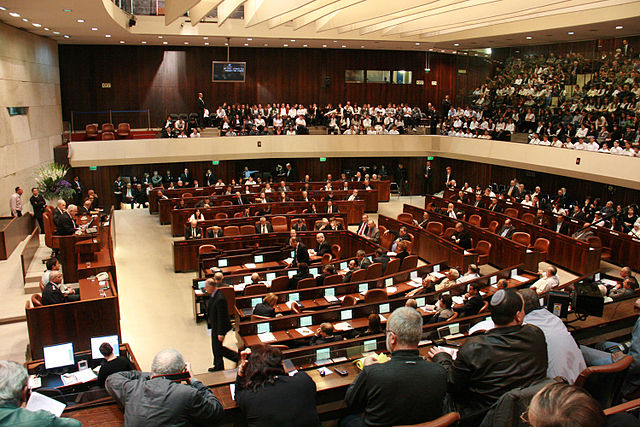 JERUSALEM–Israeli media outlets reported that last week during a "heated" debate in the Israeli Knesset, a cannabis activist held up a bottle he said contained cannabis oil and drank it to protest the Israeli Medical Cannabis Authority's (ICMA) new policy on access to medical cannabis.
News site JPost.com reported that the man yelled, "You can't overdose on medical cannabis oil," as he drank it. He was later removed from the Knesset Health Committee meeting by ushers, as were other protestors.
While JPost indicated the man was the father of a young girl receiving medical cannabis treatment, conflicting reports from the Times of Israel said the man who drank the cannabis oil claimed to suffer from post traumatic stress disorder (PTSD).
JPost also reported that the cannabis oil contained THC, or tetrahydrocannabinol, but the Times said it was "Avidekel cannabis oil" manufactured by Israeli medical cannabis manufacturer Tikun Olam. Avidekel is a cannabis strain bred by Tikun Olam that is high in CBD content, but low in THC, which is the psychoactive compound found in cannabis.
Cannabis activists and parents of pediatric patients using cannabis medicines were debating a recent directive issued by the IMCA, which calls for "reforms" to former policies regarding medical cannabis use. Activists are afraid the new policy will raise the cost of medicinal cannabis products and also eliminate use of specific cannabis strains in formulations that patients have been using to treat serious conditions.
In an earlier op-ed for the Times of Israel, published when the directive was initially issued, Dr. Alan Flashman, criticized the IMCA's directive and said, "… The IMCA delivered its new edict; a pseudo-scientific reform that will impair the treatment of thousands. Billed as a 'reform,' it one-sidedly forces patients to relinquish the strain they have come to rely on empirically in favor of some CBD/THC compositions now provided in pharmacies.
"This is treating cannabis like a medicine, not the medicinal use of a plant," Flashman continued. "The plan, as best I understand it, is to move all cannabis licenses into the hands of eighty physicians trained two years ago by the IMCA, who will have exclusive privilege to write a license that specifies a CBD and THC composition, and a dose according to the very restrictive and not evidence-based IMCA under-dosing regulations. The patient then has a pharmacist who knows nothing about cannabis dispense (sic) according to CBD and THC composition. Patients will have no discretion regarding strains."
Dr. Flashman is a psychiatrist with a practice in Israel since 1983, who has prescribed medical cannabis for patients with PTSD, among other conditions. He is also a noted pediatric psychiatrist.
IMCA Director Dr. Yuval Landshaft at the Knesset committee meeting was reported to have attempted to address protestors' concerns and said, "we never ordered the [labeling by] strains to be halted," and that no "strains" will be removed from the existing list of available cannabis medications.
Israel has been a leader in medical cannabis research since the '70s, after renowned cannabis researcher Professor Raphael Mechoulam isolated THC from cannabis in 1964. The Israeli government's progressive stance toward medical cannabis research has insured the country's prominent role in the global medicinal cannabis industry, and has allowed clinical research and human trials for cannabis-based medicines.
According to JPost, 33,000 Israelis currently are certified to receive medical cannabis, using an average of 34 grams of dry cannabis flower a month. Prior to the ICMA's directive, patients had been able to access unlimited amounts of dry cannabis flower for about $105 USD a month.
The new policy is meant to discourage smoking of dried cannabis and would allow patients to buy a monthly minimum of 20 grams of cannabis oil, at a cost of about $86.00. In April, on cannabis holiday 4/20, traditional pharmacies in Israel began selling prescription cannabis oil for the first time.