The legal cannabis industry is having more than a moment. Not only is revenue expected to top $40 billion in sales annually within the next four years, but in addition jobs are expected to multiply 250 percent from 2018 to 2028. This massive economic growth means new and exciting opportunities for cannabis founders, cultivators, manufacturers, and consumers alike.
But with any industry that experiences rapid growth and transformation, so too come challenges. As we have seen with the CBD industry, which analysts predict will see a threefold sales increase over the next five years, a lack of clear regulatory guidance has led to a massive influx of products. Frankly, there's a lot of noise, which not only makes it difficult for new companies to break through but also, and most importantly, makes it harder for consumers to know whom to trust.
It doesn't help that nearly 70 percent of cannabidiol extracts sold online are mislabeled. While some are over-labeled and others under-labeled, only 30 percent of CBD products tested can legitimately claim CBD content within 10 percent of the amount listed on the product label. That's a serious problem. Luckily, we've seen the FDA proceed with large-scale product testing and the FTC take a closer look at CBD marketing.
It's more important than ever to prove your viability and credibility, not only to break through the noise to increase customers and sales, but also to uplift the industry as a whole, which we as a community have a responsibility to do. An adjusted marketing strategy that prioritizes testing and business due diligence undoubtedly also will help skeptics shift their perception of the industry.
So how can you take this from idea to implementation?
Do your due diligence
The three most important things to secure for your CBD product are insurance, third-party testing, and a certificate of analysis (COA). In the rare case of a consumer reaction or  product recall, it's important to minimize your risks by making sure your products are insured. Because products are not covered under business insurance, you must purchase a separate product insurance policy. Entrepreneurs in all sectors of the industry must reduce their liabilities and risks. Consider applying for certifications from industry programs like the US Hemp Authority. The organization's initiative was established in 2018 to protect consumers and retail outlets by providing independent, third-party certification that requires industry farming and regulation standards compliance and truth in labeling.
Incorporate education into your strategy
It's important to focus on not only trying to sell your product or brand, but also to make sure you're educating your audience as part of the strategy. CBD is still very new to some, and many are curious about how hemp is cultivated, whether hemp will get them high, whether CBD is legal, whether they should expect any side effects, and many other lingering questions. Being viewed as an expert is not about flexing your brand muscles; it's about truly helping the audience better understand the benefits and use cases for CBD in order to help them. Consider sharing research, scientific podcasts, and case studies and encouraging advocacy to help with evidence-based educational information. The more educated consumers are, the better advocates they will be for the industry.
Get out there and market!
The above two are critical first steps, but if you're not sharing that your company has completed testing, is insured, understands the scientific and health research about CBD, and would like to use its knowledge to help customers, then you'll go nowhere fast. Incorporate an ingredients list on product labels, be active on social media, partner with experts in the field, host virtual educational seminars, and talk to the press. Making an impactful contribution — and talking about it openly — is more beneficial than selling a product that merely sits on the shelf in a convenience store.
Upholding industry standards is non-negotiable. For us collectively as a community of cannabis leaders, we should demand more of those who aren't testing their products or misleading people by boasting inaccurate levels of CBD in their products. And the more society understands the evidence-based benefits and effectiveness of cannabis, the more access we'll provide to help individuals experience the benefits of this amazing healing plant. We have to hold ourselves accountable and practice the highest standards, for both our customers and the industry as a whole.
---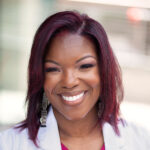 Dr. Kirsten Shephard Ahmed, DC, LMT, a licensed massage therapist and doctor of chiropractic, is the founder and chief executive officer at Pain Stoppers, a hemp-based solution to pain management and recovery that promotes whole-body wellness. For more than ten years, she has established integrated practices that combine medical, chiropractic, acupuncture, and physical therapy approaches to whole-body care, including opening clinics across Texas and in Los Angeles. Dr. K's holistic approach to pain relief has led to recognition, by way of awards and teaching opportunities, from Texas legislators and leaders at top hospitals. She is a cannabis advocate and an active member of Texas NORML, the Minority Cannabis Business Association, and the Drug Policy Alliance.