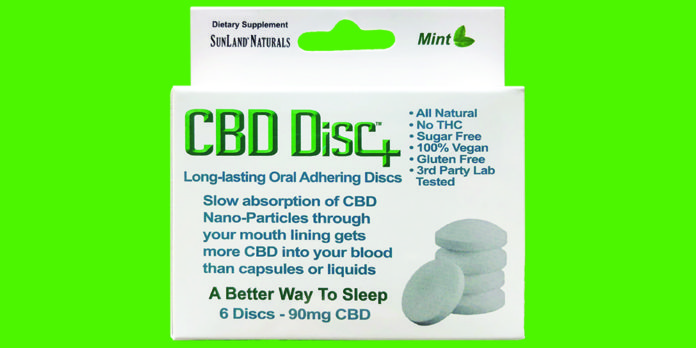 Especially developed for time-released application, Sunland's CBD Disc can be used overnight or during the day for discreet, continuous micro-dosing. Their patent-pending application is designed so the dimpled disc adheres to your gums, providing long-lasting, gradual, and consistent absorption of CBD extract into the bloodstream in a slow-acting sublingual dose.
With the Nanopar Process™, Sunland said, time-released application of up to four hours allows more complete absorption and benefits, "unlike capsules, food, and liquids." Much of the CBD extract in edibles, beverages, and capsules, they claim, is lost in the digestive process.
CBD Disc is infused with crystallized CBD extract derived from organically grown hemp, which guarantees no GMOs, pesticides, herbicides, chemicals, residual solvents, heavy metals, mold, or chemical fertilizer. Every batch is third-party tested with test results provided for quality assurance.
Sunland also provided information for customers that might be concerned about prescription drug interactions and recommended that some patients consult with their regular physician, before adding CBD to their health routine.
"CBD inhibits the cytochrome P450 enzyme, which is involved in metabolizing numerous drugs. Compounds in grapefruit inhibit the same enzyme group, which is why physicians advise patients not to eat grapefruit shortly before or after taking some medications," Sunland explained. "By inhibiting cytochrome P450, CBD can either increase or reduce the effects of other drugs. In some situations, it may be advisable for a doctor to monitor a patient's blood level of other medications while taking CBD."
Sunland Naturals CBD Discs are available for white-labeling. Each disc contains 15mg CBD extract, and is no sugar added, gluten-free, and Vegan. CBDdisc.com.