CBD, or cannabidiol, is majorly trending as a health and wellness supplement, with consumers everywhere anxious to try out its much-lauded effects. It's fairly well established with anecdotal evidence and increasing research studies that CBD has actual anti-inflammatory, anti-nausea, and anti-seizure benefits.
Because those symptoms accompany a wide array of conditions, from stress to arthritis to intractable pain, CBD products have developed to offer health-conscious consumers and those with serious conditions various options, to make CBD part of a holistic treatment or wellness regime.
Whether seeking out rapid absorption, or sustained, time-released applications, or trying to target specific conditions, these five products offer options beyond lotions, tinctures, capsules, or edibles: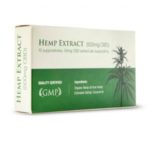 Endoca CBD Suppositories–For patients that are looking for rapid absorption or to treat pain in the pelvic or lower back area, suppositories are a more targeted option for application. Endoca's website explained: "CBD suppositories are an effective method for taking CBD because it's absorbed straight into the bloodstream via capillaries in the anal or vaginal passage—therefore avoiding the digestive process. The effects of CBD are often noticed within 10–15 minutes after application and can last around 4-8 hours." At Endoca.com.
Myaderm CBD Blemish Control–One under-hyped but actual proven benefit of hemp is its antiseptic properties. In fact, hemp textiles are used in medical applications because of their ability to resist bacteria and contagions. For skin, hemp oil-infused products are touted by some skin experts for soothing acne breakouts, as well as other chronic skin conditions. Myaderm's formula was developed by a licensed pharmacist with all-natural ingredients; this daily moisturizer hydrates as it reduces blemishes and inflammation. Visit Myaderm.com.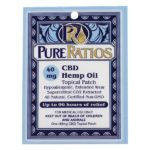 Pure Ratios CBD Patch–These award-winning patches are for pain sufferers that need sustained, time-released relief from CBD in a convenient, easy-to-use application. Waterproof, with a patent-pending "reservoir" design that provides up to 96 continuous hours of use. Other ingredients include virgin avocado, extra virgin coconut, and virgin sweet almond oils, as well as aloe and Shea olein, for added therapeutic benefits. Each application contains 40mg of hemp-derived CBD. From PureRatiosCBD.com.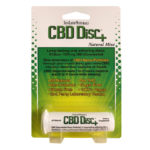 Sunland Naturals CBD Disc+–Sunland Naturals patent-pending Nanopar Process allows nano-sized CBD particles to adhere to grains of material matrix that form these unique disc-shaped lozenges. Unlike capsules or edibles, which must go through the digestive process before rendering medicinal effects, CBD+ Discs are placed between the user's gum and cheek, where the slow-dissolving application provides sustained relief, as well as greatly increased bio-availability, with nano-particles down to one molecule in size absorbed straight into the bloodstream. Patented adhering technology means the discs can be used overnight. All natural, gluten- and sugar-free, Vegan, and lab-tested for purity. Each disc contains 15mg of hemp-derived CBD, in mint. Visit CBDDisc.com.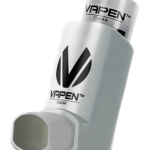 Vapen Clear CBD Inhaler–In blends including THC, THC/CBD, and CBD-only. Vapen Clear CBD oil is derived from full plant cannabis (not hemp), which means inhaler concentrates contain other cannabis-derived compounds including terpenes, as well as CBD and other cannabinoids. CBD-only inhaler blends contain only trace amounts of psychoactive cannabinoid THC (less than .03 percent), and come in natural flavors including bubblegum, blueberry, green apple, GG, GSC, lemonade, mango Kush, raw strawberry cough, Skywalker OG, and strawberry. Inhaling aerosol vapor ensures users absorb up to 98 percent of cannabinoids, according to Vapen. At dispensaries in Nevada only; for locations, visit VapenClear.com.