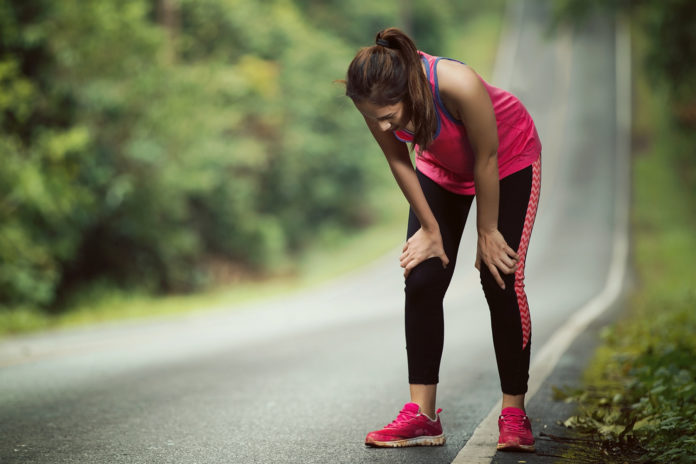 THE GYM–It's nearly 2019, and whether you work out hard or hardly work out, it's that time of year when many of us begin to contemplate healthier lifestyle changes.
Supplementing with cannabidiol–widely known as CBD–as part of a wellness regime really came to the forefront in 2018, as consumer interest in alternative, natural pain relief has grown, spilling over into wellness lifestyle markets. Increasing research data indicates that CBD has potent anti-inflammatory, anti-seizure, and pain relief benefits.
Tapping the potential of cannabinoids without the "high" is also a game-changer for many amateur and professional athletes, fitness enthusiasts, and wellness practioners. New methods for using CBD have offered consumers so many options for use; from topicals to edibles to capsules to tinctures, and more–much more.
Manufacturers like Floyd's of Leadville specialize in CBD-infused supplements and products for athletes and fitness consumers. Floyd's sponsors professional tri-athlete Andrew Talansky, who has commented in various men's and fitness publications on his use of CBS soft-gels for treating pain and inflammation. Talansky told Outside Magazine online that the effects of CBD were comparable to using ibuprofen and also provided some anti-anxiety benefits, contributing to improved sleep.
Interested in how CBD might help to ease you into those first-of-the-year fitness goals or take the edge off getting back in the groove? Here are ten products to consider: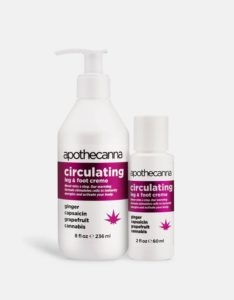 Apothecanna Circulating Leg and Foot Creme–The warming formula contains CBD and other all-natural ingredients including essential oils of of grapefruit, capsaicin, and ginger to reinvigorate tired muscles and moisturize the skin. Apothecanna recommends this lotion to "promote blood circulation, improve mobility, and reduce inflammation." Apply in the morning for daily effects, as well as before or during exercise, according to suggested use. Citrus scent and not tested on animals. Apothecanna's other product categories include Full Strength, Relieving, Calming, Everyday, and Sexy Time. From Apothecanna.com.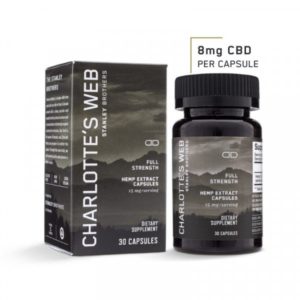 Charlotte's Web Full Strength CBD Capsules–A leader in medicinal CBD oil known for developing the Charlotte's Web cannabis strain for pediatric epilepsy patient Charlotte Figi. The story was featured in Dr. Sanjay Gupta's first episode of news network CNN series "Weed," in 2013, and spotlighted CBD therapy for extreme pediatric medical conditions like epilepsy and cancer. Their proprietary full-spectrum extract contains phytocannabinoids, terpenes, and flavonoids derived from their own premium hemp. Each capsule contains 8mg CBD, which helps for precision micro-dosing and gradual dosing increase. Encourages workout recovery, as well as calming and focus when used as a daily supplement. At CWHemp.com.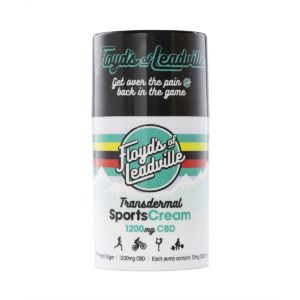 Floyd's of Leadville Transdermal CBD Isolate Cream–This topical formulation is for those who want a full strength application of CBD. Each 50g pump bottle contains 1,200mg of hemp-derived CBD isolate, with eucalyptus, grape, olive, and orange essential oils, and menthol. Transdermal CBD Isolate Cream is only one of the company's full-line of sports and fitness CBD products, including balms, soft-gels, tinctures, and powdered supplements. Floyd's isolate-based products are free of cannabinoid THC, for consumers that prefer to avoid the compound, which is still federally prohibited. Organic, non-GMO, no preservatives or additives, and made in Colorado. Visit FloydsofLeadville.com.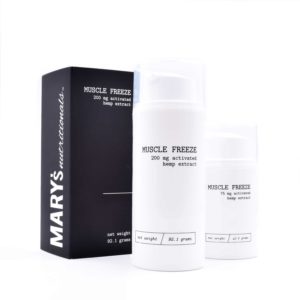 Mary's Nutritionals Muscle Freeze Cream–A luxurious- and potent-sounding formula with 75mg of hemp-derived CBD per each pump bottle. Ingredients also include mango butter, beeswax, menthol, camphor, marjoram, white beeswax, and apricot, sesame, and grape seed oils, among others, and give this blend a spa-like feel of skincare and muscle pain relief in one lotion. Mary's Nutritionals produces CBD-infused nutritional supplements and skincare/cosmeceutical products with an in-house laboratory for quality control, and sources their organic whole-plant hemp from Colorado-based Elite Botanicals. From MarysNutritionals.com.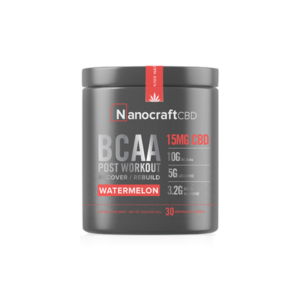 NanoCraft CBD™ Post Workout Powder Supplement–This "coming soon" mix is the latest addition to Nanocraft's line of sports/fitness products, which includes CBD-infused salves, soft-gels, oils, and flavored waters. Recommended to "re-charge muscles and battle the harmful effects of free radicals," this advanced formulation contains 15mg of hemp-derived CBD and 10g BCAAs (branched-chain amino acids), as well as other nutrients. Formulated to dissolve easily in water and provide rapid absorption. All natural, non-GMO, gluten-free, and made in the U.S.A. Will be available in watermelon flavor, at NanoCraftCBD.com.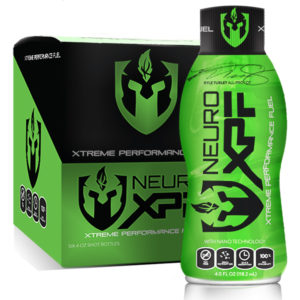 Neuro XPF Extreme Performance Fuel–Developed by former NFL offensive lineman and cannabis advocate Kyle Turley, this line of performance-focused supplements has a variety of applications to choose from for amateur and advanced athletes and fitness fans. Turley, who has been diagnosed with CTE (chronic traumatic encephalopathy) from multiple concussions sustained as a player, said of cannabis-based medications, "It saved my life. I wouldn't be where I am today, I would not have my family, my kids, my house, everything I have right now, if not for cannabis." Products include soft-gels, topical rub, gummies, and tinctures infused with CBD oil derived from hemp. Their CBD Neuro-Shot also contains "electrolytes, amino acids and anti-oxidants that support recovery." At NeuroXPF.com.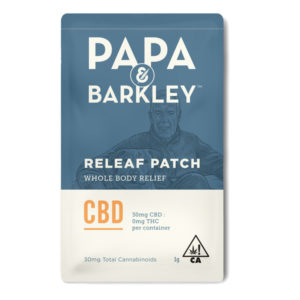 Papa & Barkley Releaf Patches–Using a stick-on patch for transdermal delivery allows users to target specific areas with a sustained dose of 30mg of full-spectrum CBD, as well as essences of menthol and camphor, mineral oil, and other natural ingredients. Papa & Barkley said that pain relief could last up to twelve hours, while offering users a discreet and convenient option for all-day use. In a CBD-only formula, and three CBD:THC formulas, for those looking for the "entourage effects" of full-spectrum cannabinoids. Part of a full line of cannabis-infused sports fitness products, from PapaAndBarkley.com.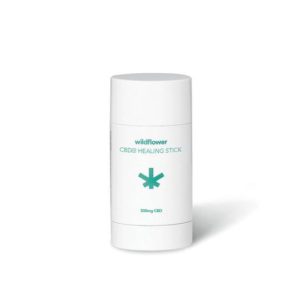 Wildflower CBD+ Healing Stick–This all-natural formula has 500mg of CBD, as well as essential oils of arnica (an herbal remedy for bruising) and wintergreen, which can help with pain and inflammation. Manufacturer Wildflower recommends this topical stick for "targeted pain relief, cool and soothing joint and muscle pain relief," and inflammation, as well as arthritis relief and headaches. Hemp also has some anti-bacterial properties, so this stick can be used for therapeutically for skin breakouts. Other ingredients include coconut oil, Shea butter, beeswax, Ecosoya (soy wax), and vitamin E. Visit BuyWildflower.com.
Willpower ReGenPCR Protein Powder–Phyto-cannabinoid rich CBD extract blends with 20g of grass-fed whey and 6g BCAAs (branched-chain amino acids), flax seed powder, and minerals for this powdered protein supplement. Derived from hemp, with no THC, but other cannabinoids to enhance the 'entourage effect.' Cold-processed without use of acids or bleach; GMO, gluten, as well as rBGH and rBST free. Hemp sourced from Colorado. Each serving contains 20mg of CBD. Available in Cinnamon Cocoa and Vanilla flavors, from Willpower-Products.com.