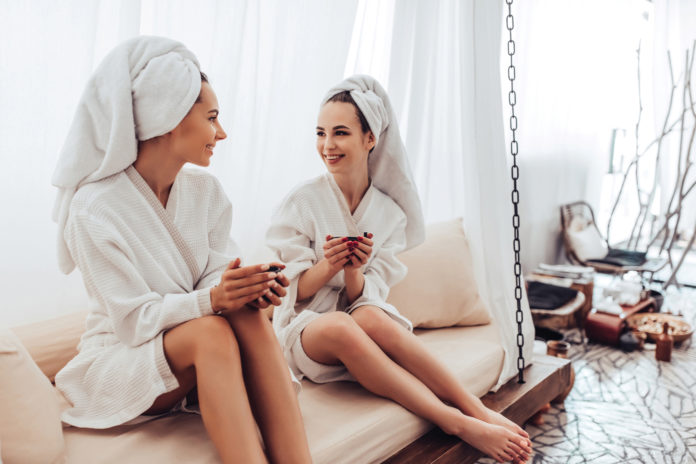 The cannabinoid tetrahydrocannabinol (THC), the psychoactive compound in cannabis, used to get all the attention. But cannabidiol, more commonly known as CBD, has gained wholesome appeal for what could be much larger consumer markets than the niche for recreational cannabis. As awareness of various compounds derived from cannabis and hemp and their possible health benefits increases, consumers increasingly experiment with CBD to treat what ails them or ward off potential ailments.
Much of the buzz that surrounds cannabinoids at the moment is marketing hype, due to U.S. federal prohibition of medical research. Anecdotally and in surveys, though, anti-inflammatory, anti-nausea, and anti-seizure properties with minimal side effects have been ascribed to CBD. The substance's popularity as a supplement has increased dramatically as positive results from research in other countries are publicized and U.S. state-level cannabis legalization increases.
Mad Hatter Coffees and Teas offers a full line of cannabis-infused coffee and tea blends that also include other healthful herbal ingredients. The manufacturer's THC-infused products are available in Arizona, Colorado, Illinois, Oregon, New Mexico, Nevada, Vermont, and Washington State, and the company recently added a CBD-only chai tea blend.
"We created our CBD Third Eye Chai as a response to our clientele," said Mad Hatter owner Jill St. Thomas. "Even with intermittent state regulation against or for CBD products, the demand is incredible."
In June 2018, the U.S. Food and Drug Administration approved the first cannabis-derived drug, Epidiolex, a CBD-oil formulation developed by GW Pharmaceuticals to treat two specific forms of severe epilepsy. So, despite the federal government's official stance that cannabis has "no medicinal value," CBD evidently does have medical benefits that cannot be denied.
Holistic physical health, mental health, and self-care movements have become high-end lifestyle trends, at least partially as a result of what Americans perceive as Big Pharma's financial and physical abuse of consumers. High-profile recalls of dangerous FDA-approved medications like the weight-loss drug Fen-Phen and the pain reliever Vioxx shook consumers' confidence in Big Pharma's dedication to producing effective products. Enormous price hikes on life-saving medications like EpiPen's 500-percent climb and the notorious overnight 5,000-percent leap in the price of AIDS and cancer drug Daraprim convinced consumers Big Pharma is motivated by greed, not health. The opioid crisis only deepened mistrust and disgust.
As a result, cannabinoids' appeal becomes increasingly important to health-and-wellness markets as consumers shift their focus away from traditional medicine and toward managing their own care. An American Express Life Twist Study indicated 85 percent of Americans say good health is the most important contributor to their definition of "success." The Women's Marketing 2017 Health and Wellness Trends survey found homeopathic remedies are among the top three complementary and integrative strategies consumers use in their healthcare regimens. According to market research firm Mintel, organic beauty product sales in 2018 are expected to surmount 2013's volume by 74 percent, and vitamins and supplement sales in 2018 will show a 58-percent rise over 2008's level. Much of the growth will be driven by Millennials—consumers now between the ages of 25 and 36—70 percent of whom say they use herbal remedies and/or homeopathic cures.
"Far and away the two most valuable segments of the CBD health-and-wellness market are women and pets."
So, it's not surprising CBD is used in everything from Epsom salts to pet treats to mascara. Mainstream retailers in the U.S. are eager to get in on the over-the-counter CBD-infused market, but they're shy to try with no clear federal policy. To fill the void, boutique stores and online retailers offer CBD-only brands, and many THC product manufacturers are adding CBD choices to their recreational and medicinal lines.
Far and away the two most valuable segments of the CBD health-and-wellness market are women and pets. Women, who often are early adopters of lifestyle trends and savvier than men when it comes to self-initiated care, typically are more open to considering a cannabis-related purchase. Wellness products for women span a spectrum from medicinal tinctures targeted at menstrual and menopausal symptoms to CBD-infused spa products, cosmeceuticals, edibles, and everything in between.
New ways to use CBD designed to appeal to the female market debut frequently: topical applications, oral tinctures, infused beverages and edibles, and luxury skincare including relaxing bubble baths. Antiseptic properties of cannabinoids also make hemp-oil-infused products (including textiles made from hemp) potentially therapeutic for acne and other skin conditions.
Pet health products saw consistent growth even during the Great Recession. In 2017, revenue from hemp-derived animal products reached $13 million, according to New Frontier Data; by 2022, New Frontier expects the market to be worth $125 million. Because CBD is touted for its anti-anxiety, anti-inflammatory, and pain-relieving properties, some pet owners add infused tinctures, treats, and other products to their pampered pets' supplement regimens.
"Most people seek out the products for pain and anxiety relief, but we have testimonials for successful use in many other conditions," said Heidi Hill, co-founder of California Bay Area pet-care retailer Holistic Hound. She rattled off a laundry list of ailments: "seizures, side effects of cancer treatment and symptoms of cancer, mega esophagus, nausea, vestibular disease, heart support, irritable bowel disease, [obsessive-compulsive disorder], over-grooming in cats, allergies, collapsed trachea, end-of-life support, and general health and wellbeing."
HolisticHound.com carries alternative health and diet options for cats, dogs, horses, and other mammals and offers its own branded line of holistic tinctures, treats, and supplements infused with CBD formulations.
CBD dog treats and pet tinctures are relatively easy to find online, and CBD pet products are marketed heavily in the summer as a natural remedy for Fourth of July jitters. As with human medical practitioners, though, animal healthcare providers find research-backed information about cannabis-derived products and therapies almost nonexistent. A few veterinarians in legal states are willing to recommend CBD or cannabis supplementation, but most decline to weigh in, citing legal and ethical concerns.
A third market segment shows considerable potential: food and beverages. In fact, there may be no better consumer segment for establishing a supplement. Trends already indicate alcohol and tobacco use declines with cannabis legalization, enough for adult beverage companies to take notice.
Constellation Brands, parent company of Corona beer, in 2017 became the first mainstream multinational corporation with major alcohol holdings to jump into the Canadian cannabis market when it signed a widely reported distribution deal. In August 2018, iconic Canadian beer brand Molson Coors entered a partnership with Montreal-based The Hydropothecary Corporation to produce non-alcoholic, cannabis-infused adult beverages.
In the U.S., infusing alcoholic products with even non-psychoactive cannabis-derived compounds is a legal gray area still being navigated by state regulatory agencies. While the FDA claims no authority over THC products, the agency does take a position on hemp-derived CBD, which it prohibits in food and beverages. Nevertheless, CBD-infused edibles, gourmet concoctions, and pet treats are readily available online, and the market segment is expected to grow dramatically since passage of the 2018 Farm Bill.
Another beverage that's about to see a big infusion of CBD is designer bottled water. Supplemented sports beverages and naturally flavored, low-calorie infused waters are primed to become a breakout product when mainstream retailers are free to stock their shelves. For now, infused beverages available online and in dispensaries are an easy way for curious consumers to try the emerging trend.
CBD also is popping up more often as a recipe ingredient as the trend for "experience dining" pushes chefs and bartenders to find edgier takes on healthful cuisine. CBD-infused mocktails and mixed drinks are offered on upscale menus in Denver, Los Angeles, and Las Vegas.
---
RETAILERS
CBD products are easy to purchase online, but visiting a brick-and-mortar store allows consumers to see, touch, and sample products before they buy.
Some stores in this list are independent vendors that carry many different products by numerous producers. Several are CBD-only retail chains that sell their own lines of signature product.
AMERICAN SHAMAN CBD
This Kansas-based store chain operates multiple branded locations primarily in the Midwest and Southeast, including storefronts in Florida, Tennessee, Georgia, Arkansas, Nebraska, Missouri, Oklahoma, Texas, California, and Montana.
BRIGHT DAY CBD
A single brick-and-mortar location in Tacoma, Washington, carries several lines of CBD products and features products from manufacturers Elixinol and CBD Distillery, among others.
BUY LEGAL MEDS
This chain has three stores in Las Vegas and the distinction of being the "world's first" CBD-only product and smoothie shop. Visitors to the Tropicana Avenue location may enjoy an in-store "movie lounge, a video game and dab lounge, and healthy CBD smoothie bar."
CBD BOUTIQUE
Though headquartered in Watford, England, this chain operates two locations in Albuquerque, New Mexico. The co-owner of both stores is a registered nurse, lending her medical expertise to CBD education for customers.
CBD PLUS USA
With thirty-one locations throughout Oklahoma and one in Tennessee, this retail chain plans rapid expansion in Tennessee and into Texas. Shelves contain Colorado Cures' complete U.S.-sourced and -produced product line.
THE CBD STORES
With locations in St. Louis and Kansas City, Missouri, as well
as Oklahoma City, this chain features Evolution CBD products exclusively. Stores stock a complete line of tinctures, topicals, pet products, and gummies.
THE HEMP FARMACY
Located throughout North Carolina, with a flagship store in the city of Wilmington, The Hemp Farmacy is the state's first CBD-only store chain. The company is owned and operated by the Hempleton Investment Group.
---