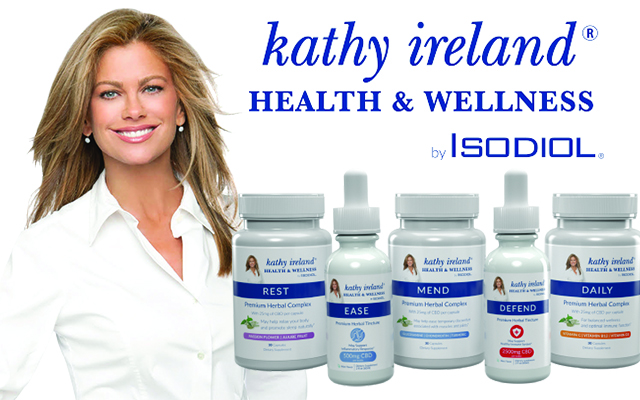 CHARLOTTE, N.C.–Canadian-based CBD product manufacturer Isodiol and its marketing partner Level Brands have announced five new products, in partnership with Kathy Ireland® Worldwide brands.
Ireland is a former Sports Illustrated cover model (appearing in 13 consecutive SI swimsuit issues) and founder of her signature consumer brand, which has marketed everything from socks to swimsuits to home décor at mainstream retailer K-Mart, among others.
The new Kathy Ireland® Health & Wellness products are encapsulated and tincture formulations infused with CBD derived from organic hemp, blended with botanical extracts, and other natural ingredients. They include:
DAILY Premium CBD Complex–A blend of essential daily vitamins, botanical extracts and CBD from organic hemp. Contains vitamin B12, which helps boost energy levels, while vitamin C and D3 help maintain immune function.
REST Premium CBD Complex–Formulated to help relax your mind and body and promote sleep naturally.
MEND Premium CBD Complex–Key nutrients, botanical extracts, and CBD that may help maintain healthy muscles and joints.
DEFEND Premium CBD Tincture–Blended with botanical extracts, which may support a healthy immune system and improve overall wellness.
EASE Premium CBD Tincture–May help reduce inflammation and improve overall wellness.
"It's very exciting to be at the forefront of the CBD industry, as we educate families about the power of CBD without THC," Ireland stated in a press release, which also named her as Chairman Emeritus and Chief Brand Strategist at Level Brands. "We continue to believe that the CBD industry will see enormous growth over the next decade on a global scale."
"Recently, the Brightfield Group reported that the global market for CBD could top $22 billion in the next four years. If passed, the 2018 Farm Bill which includes the Hemp Farming Act of 2018, will remove hemp as a designated controlled substance thereby legalizing the crop under federal law, which will allow CBD to be legally sold in all 50 states. The passage of the 2018 Farm Bill, which would replace the 2017 Farm Bill which expires on September 30, 2018, would be a significant positive development for the industry," Ireland added to her statement, announcing the product launch.
(In fact, the current version of the Farm Bill expired on Sunday and some speculate that Congress will wait to approve the 2018 version of the Farm Bill, as mentioned by Ireland, until after midterm elections).
The August product launch was featured in business publication Fast Company, highlighting wider acceptance of CBD and hemp, as well as cannabis-related products, particularly in health and wellness categories.
Ireland's wholesome, healthy image markets well to women, as well as the CBD-curious demographic of middle-aged consumers who have followed her modeling career in the '80s and '90s.
Celebrities also are increasingly considering cannabis or CBD product lines or sponsorships, especially if it melds well with an already established aspect of the star's image, as is the case with well-known cannabis advocates and entrepreneurs rapper Snoop Dog and comedian Tommy Chong.
With the new CBD line, Ireland joins musician Jimmy Buffet, who recently announced a licensing deal with Atlanta-based Surterra Brands, for a line of CBD-infused products under Buffet's Coral Reefer brand to be sold at Surterra retail locations in Florida. Legendary singer/songwriter Willie Nelson has also jumped into CBD with his brand's latest offering–Willie's Remedy CBD-infused coffee (Nelson's cannabis line is branded under Willie's Reserve).
Isodiol (ISOL: CNX) this week also released its financial report for the first quarter of 2019. The company reported total gross revenue of $9.2 million for the quarter, with $4.6 million in gross profit. The company trades over OTC in the U.S. and is listed on the Canadian Securities Exchange.
The multinational company also acquired KURE Corporation with plans to expand KURE retail locations in Arizona, where there are currently seven stores. Several other partnerships with manufacturers were in the works, Isodiol said, as well as development of "hemp-based beers and functional beverages."
Financial market experts speculate the market for CBD products in the U.S. could reach $1.8 billion by 2020.