YOUR HAPPY PLACE–Whether it's the endless flow of stressful headlines, or the onset of the holidays (which some people actually dread), or you're one of 40 million American adults that suffer from anxiety, hemp- (and cannabis-) derived CBD products are an emerging, alternative option for finding relief.
In fact, there's a lot of preliminary data that indicates cannabidiol, aka CBD, could be effective for a whole assortment of physical and mental conditions, though U.S. researchers are limited in their ability to conduct clinical trials that would yield more definitive data. This MedicalNewsToday.com article cites studies going back to 2010 that showed CBD's potential efficacy for disorders including seasonal affective disorder (SAD), depression, as well as "social anxiety disorder, panic disorder, obsessive-compulsive disorder (OCD), generalized anxiety disorder, and post-traumatic stress disorder (PTSD)."
Consumer trends also seem to be trending toward products and experiences that encourage wellness, self-care, and concepts like "gratitude" or the Danish term "hygge," which translate to "cozy, charming, or special." Traditional holiday customs are gradually evolving away from stressful activities, and gravitating toward giving and gifting items that promote well-being.
Especially during this holiday season, the term "chill" takes on dimensions beyond just the weather. Growing interest in self-care and anxiety relief is a reflection, of course, of consumers' increased recognition of chronic stress as a serious issue that can lead to more health problems over time.
CBD is the latest "it" ingredient in many supplements, cosmeceuticals, edibles, and more. Hemp oil is typically what manufacturers add to products that can be shipped throughout the U.S. (since hemp oil contains less than .03 percent THC, the psychoactive ingredient in cannabis). Though the American hemp industry is in its infancy, the U.S. is the largest global importer of hemp products from countries like France, the Netherlands, and China.
Always refer to the product manufacturer/vendor for any questions about product–they should be easy to contact and available to answer your questions. Some manufacturers will be able to offer seed-to-sale quality test results (if they grow their own hemp), but any CBD product manufacturer should be able to offer information for where they source their CBD oil, and other details like whether it's also organic, if products are Vegan- or no animal testing-friendly, and recommended usages.
Here's nine CBD products that target stress, so you can just chill and relax (aka chillax)–because if you don't take care of yourself, you can't take care of anyone or everyone else: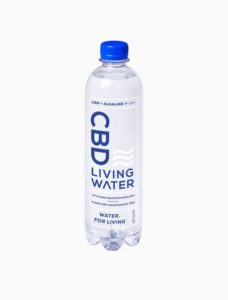 CBD Living Water–Made with 100 percent organic, natural hemp CBD extracts. Cutting-edge nanotechnology is used to infuse CBD extract in approximately 9+pH water. At MayoClinic.com's Connect Blog, volunteer mentor Gail (@lalyfa) offered her opinion on CBD Living Water, which she used to manage anxiety after eliminating prescription drug Tramadol, under doctor's care. "The CBD Living Water was my favorite as it just was like drinking bottled water and was immediately available in my system. Within a few minutes of drinking one serving, my anxiety began reducing," she wrote. For more about CBD Living Water, visit CBDLiving.com.
Green Roads CBD Oil–Like other product manufacturers, Green Roads offers a dozen different CBD products in various applications for humans and pets. For the CBD oil purist or patients looking for higher dose formulas, this line of CBD oils has several options. Sleep blog Tuck.com recently declared Green Roads CBD Oil their pick for "Highest Quality" CBD Oil, in their roundup of CBD oils for insomnia, pain, and anxiety. The company described its oil manufacturing process and said, "Our industrial hemp goes through a supercritical CO2 extraction process to obtain the best possible CBD solution. This solution is then formulated by our board-certified pharmacists into finished products and sent out for third party testing." More, at GreenRoadsWorld.com.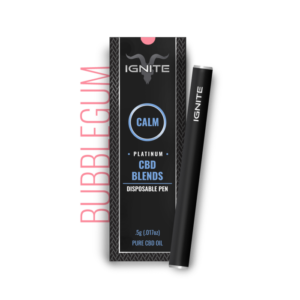 Ignite CBD Flavored Disposable Vape Pens–For many, the ritual of smoking or vaping is a calming exercise. Especially for those who are trying to eliminate cigarette smoking from their routine, vaping is an option; and also a discreet choice for those who'd like to indulge in CBD on-the-go. Colorado-based Ignite CBD offers their Calm formula vape pen in Bubble Gum and Lavender flavors, and described effects as "release and relaxation in moments of stress, and takes the edge off of a chaotic day." Each pen contains natural essences, fractionated coconut oil, and natural, hemp-derived CBD oil that's tested throughout production to guarantee no pesticides, herbicides, microbials, or other contaminants. At IgniteCBD.co.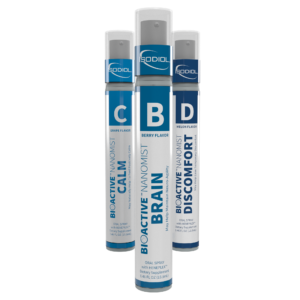 Isodiol Bioactive™ CBD line–For folks that want an all-inclusive line of products to bring CBD into their wellness routine, Isodiol's Bioactive line offers balm, lotion, a pain relief patch, three tinctures, three oil capsule formulations, and even a nano-mister that delivers oral doses of their ISO99™ CBD extract, terpenes, and adaptogens. Heneplex™ nanotechnology encourages rapid absorption. The unique formulation may help to promote "relief from temporary discomfort, maintenance of nuro-agility" and "natural calmness." Isodiol's Calm Nanomist comes in grape flavor. From Isodiol.com.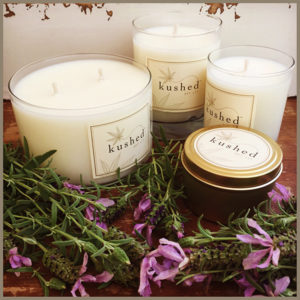 Kushed Candles–Technically, these candles only smell like cannabis and actually contain no THC or CBD; however, aromatherapy is becoming more recognized for scents' ability to stimulate feelings of wellness, happiness, calm, and even libido. If you perk up around a puff of cannabis or like to indulge in natural, earthy, floral smells, the LavenderKush Candle sounds soothing–scented with lavender, clary sage, cannabis, and hints of peony, fern, and violet. Other scents include LemonDrop, CaramelCream, CaliforniaDream blends, among others, as well as the QueenGreen all-cannabis scent, which is infused with hemp-derived essential oil. More at Kushedcandles.com.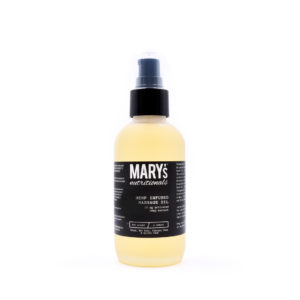 Mary's Nutritionals Hemp Massage Oil–What's more relaxing than a massage? This unscented, no-nut blend contains full-spectrum hemp oil, as well as sunflower seed oil, grape seed oil, and rice bran oil. Hemp CBD oil used in this blend is sourced from hemp grown by Loveland, CO-based Elite Botanicals, and is free of chemicals, solvents, heavy metals, and pesticides. In-house chemists oversee the production of all Mary's Nutritional products, which also go through in-house testing procedures to guarantee consistency and quality. Enjoy a massage with a friend, or use simply as a part of your all-over skincare regime. For more, visit MarysNutritionals.com.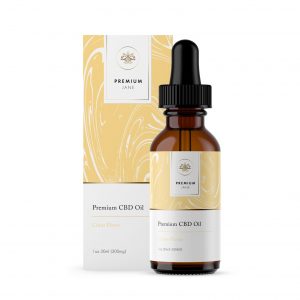 Premium Jane Flavored CBD Oil–A "nutritional supplement for pain, inflammation, sleep-related issues, anxiety, and day-to-day stress," the company said when describing their citrus-flavored CBD oil, noting they "spent years perfecting this citrus-flavored formula by incorporating 100 percent natural citrus extracts from a wide range of citrus fruits. The result is a smooth, relaxing formula that delivers potent CBD extract in a pleasant and easy-to-consume manner." Sourced from organic, Oregon hemp, the line also offers mint-flavored and unflavored sublingual oils, in convenient dropper bottles. At PremiumJane.com.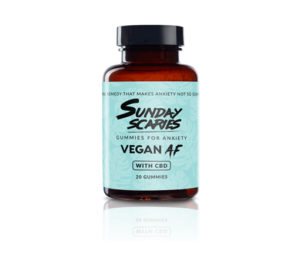 Vegan AF Sunday Scaries CBD Gummies–Natural CBD anxiety relief with a 100 percent Vegan formula with vitamins D3 and B12. The "perfect everyday gummies to keep you relaxed, focused & on track." Customer Arlene Ibearya posted a testimonial and said, "This is the best CBD product I've tried to date and they work wonders for me. I don't need to take weird prescription chemicals and I'm not a fan of THC, so these are perfect." Sunday Scaries sources there CBD oil from the U.S., which is organic and pesticide free. From ForSundayScaries.com.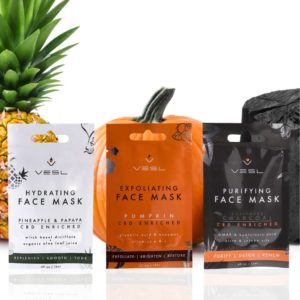 VESL Oils CBD Masks–Though these masks aren't specifically formulated for anxiety relief, there's no rule saying you can't take a half-hour for yourself to do a home facial. Go ahead and lock yourself in the bathroom, she-shed, or man cave, put in the ear-buds, break out some bubbly, draw a bath, and marinate your face in a calming combination of CBD isolate and other naturally beneficial beauty botanical extracts. Choose the VESL Face Mask bundle pack, and you get one of each: Pineapple & Papaya, Pumpkin, and Charcoal-infused. When you feel good, you look good, and vice versa–so, CBD self-care can start with something as simple as a hydrating and calming skincare routine. At VESLOils.com.