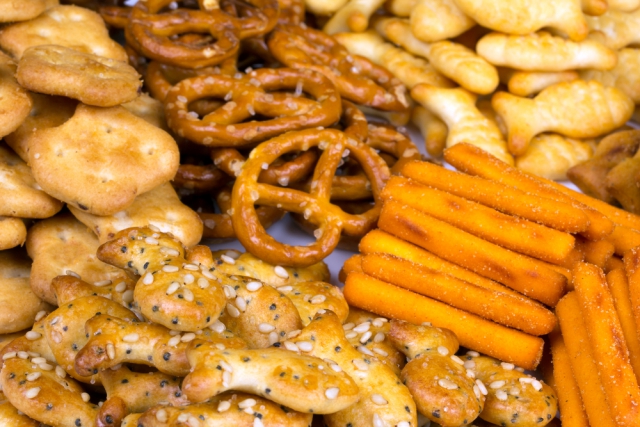 Sometimes, you just want something salty, spicy, or full of complex umami flavor, instead of a treat that's sugary. But if you don't have a sweet tooth or do have issues with too much sugar, savory infused edibles can be hard to come by–especially CBD-only edibles.
Most cannabis-infused edibles are sweet; chocolate, cookie, and candy recipes include other delicious ingredients that compliment oils extracted from cannabis or hemp, as well as help masks the earthy, herbal taste of cannabis extract. With so many different cookies, brownies, gummies, and drinks to choose from, it does seem like sweet treats outnumber savory options ten-to-one.
CBD-only edibles are widely available; since they contain no or only trace amounts of THC (tetrahydrocannabinol), the psychoactive compound in cannabis, they can be purchased online from several manufacturers and distributors. You need to be over 18 years old to purchase CBD edibles. Some CBD edibles may also contain low levels of THC (typically for a specific therapeutic effect and over 0.3 percent of the total formulation) and are only available through cannabis dispensaries in legal states, in the U.S.
Many CBD products use extracts derived from industrial hemp, which is a cannabis crop that contains low levels of THC but provides a plentiful source for CBD oil, extracts, and hemp seeds used in edibles. Hemp seeds are considered a good source of plant protein, fiber, and Omega 3 and 6 oils, but are not necessarily a rich source of CBD. Make sure edibles are labeled clearly, like the ones on our list.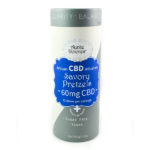 CBD Savory Pretzels–These crunchy twists are full of flavor, adding exotic spices to compliment the essence of cannabis oil. Ingredients include coconut oil, soy sauce, paprika, onion flakes, garlic powder, rice vinegar, apple cider vinegar, ginger, mustard, cinnamon, clove, tamarind seed extract, fresh ginger, and cayenne pepper–a very tasty blend. Vegan and sugar-free, each container has 60mg of CBD, which can be consumed in twelve servings of 2-3 pretzels each. At AuntieDelores.com, $24.00.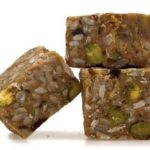 Honey Pistachio Health Bites–If you love nuts, this hemp-derived CBD-infused treat might be just what you're looking for. Ingredients include sunflower seeds, honey, pistachios, apricots, pumpkin seeds, dates, and figs–all packed with fiber, good fats, and CBD. Comes in three formulations: regular CBD-only, AM recipe with CBD and caffeine, and PM recipe with CBD and melatonin. Available in 50mg, 100mg, and 200mg of CBD, $19.99-$37.99, from CBDInfusionz.com.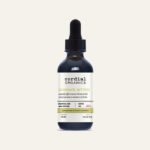 Celebrate Bitters–Bitters are an herbal elixir traditionally added to cocktails or beverages, often said to aid with digestion. Celebrate CBD-infused bitters offer beverage drinkers a chance to add the essence whole plant cannabis-derived CBD to a nightcap or non-alcoholic concoction. Other all-organic essences used for flavor include Meyer lemon, hops, gentian root, cardamom, lemongrass, and white peppercorns. Approximately sixty droppers' full, with 5mg CBD each, per two-ounce bottle. At CordialOrganics.com, $32.00.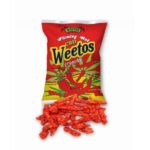 Weetos Edibles Flaming Hot CBD Chips–A "power kick" to the taste buds packed with the potent power of hemp CBD. Mouthwatering, spicy, flavorful puffs of goodness infused with 100mg of premium industrial hemp CBD. For fans of fiery, crunchy spice, Weetos offers an extra hot recipe, as well. Available from online retailer EarthshineOrganics.com. $27.99.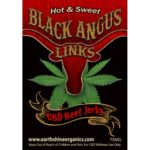 Black Angus Links CBD Beef Jerky – Another savory choice from online retailer EarthshineOrganics.com, this beef jerky recipe uses hemp-derived CBD isolate to infuse sweet, tasty beef links. An easy way to ingest CBD throughout the day with these snack-sized bites, but you may be tempted to eat the whole bag. In 75mg, 150mg, and 300mg CBD per serving. At EarthshineOrganics.com, $19.99-$49.99.
A Fish Called Juana Crackers–Salty, savory, and cheesy, these fish-shaped crackers are infused with 50mg of CBD from hemp, per bag. Golden and toasty, the small size of these little fishes makes it easy to microdose, if you're just starting to adjust your dose or you prefer a light level of CBD that's easy to maintain with just a couple of nibbles. From Perrywinkles.com, $15.00.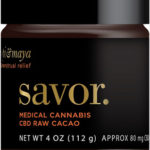 Savor CBD Raw Cacao–From Whoopi (as in Goldberg) and Maya (as in Elisabeth, company co-founder), this super-food spread is made from raw cacao, the essence of all things chocolate. While that may seem like it qualifies as sweet, chocolate (like coffee) has special status as an edible because it works with your endocannabinoid receptors, similarly to cannabis; many experts believe this creates a magic synergy between these plant-based ingredients. With cacao, cannabis oil distillate, CBD isolate, and sweetened with agave, Whoopi and Maya's Raw CBD Cacao comes with 40mg, per four-ounce jar. Whoopi and Maya are currently available only in Colorado and California.