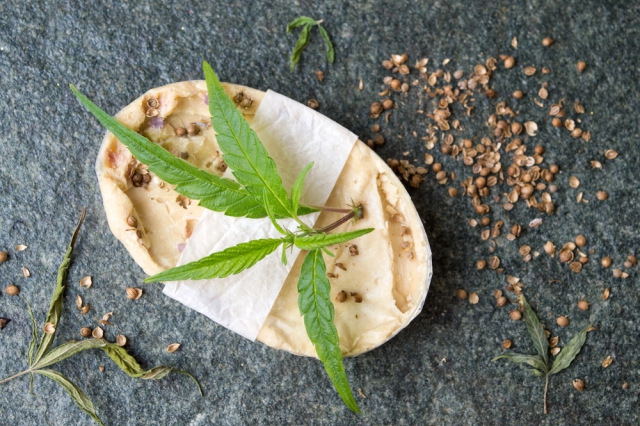 Cannabidiol, aka CBD, is the latest skincare wonder product. Whenever a new miracle ingredient like CBD comes on so strong, consumers may be somewhat skeptical of claims made by product proponents. If a magical serum could turn back the clock or bring out inner beauty, we'd all be taking baths in it daily, all day long, right?
With CBD, though, there has been some research to back up its reported beneficial effects. A 2017 study found that topically applied CBD had anti-inflammatory effects on several skin conditions including dermatitis, psoriasis, eczema, and others. A 2008 study showed also that cannabis compounds have an antibacterial effect, which may be helpful for skin prone to break outs or for detoxifying treatments.
What else is important to your skincare routine? Luxury and indulgence. The idea is to nourish yourself on several different levels and CBD-infused products give you an option to elevate your experience with wellness effects. CBD is also non-psychoactive, so none of these products will get you high on anything but feeling pampered.
Beauty-conscious consumers will also be glad to know that most CBD-based products also are all-natural, non-GMO, not animal tested, organic, and environmentally friendly. Remember to always check packaging labels for a complete ingredient list. Ask, if you need more information on any product; the companies listed here all provide customer service for the CBD-curious and several sites have FAQS.
Here's five infused products for your plant-powered pleasure: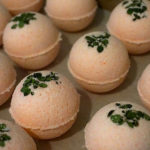 CBD Bath Bombs–Pretty and potent, these bath bombs have fans. Cassandra gave a testimonial and said, "I finally got my mom to try the bath bombs. She loved it! She has Lichen Planus, which is super-painful spots on her skin (kinda like psoriasis). It made her itching stop for most of the night and she got some well needed sleep." In Lemon Mist, Sweetest Dreams, Morning Sunshine, Sweet Citrus, Aquamarine, Better Than a Bouquet, and Immunity Boost, prices range from $10.00-15.00; some bombs are available in small, medium, and large sizes. From Cannabombz.com.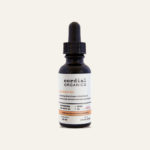 Nourish Facial Oil–A black glass apothecary bottle filled with "therapeutic botanicals, expertly blended to heal the skin, lift the mood, and banish internal and external stress." Manufacturer Cordial Organics calls this elixir "health food for your skin." Regenerative, anti-inflammatory, and calming, with chia, CBD, and chamomile oils, other herbal essential oils, and Vitamin E. Each one-ounce bottle contains 150mg of CBD. $44.00, at CordialOrganics.com.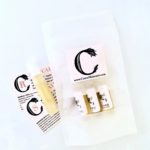 Crave CBD Trial Packs–Crave Skincare offers these handy packs for travellers, or for consumers that want to try various products before buying the big bottle. Crave CBD-infused serums come in Glow, Youth, and Gorgeous assortments and include a variety of mini products like Radical-C Serum, Glo-Berry Oil Serum, Virgin Skin, Salvation Oil, 40 Winks Eye Serum, Alchemy Body Oil, and Oil Cleanser. Plus, you get 10 percent off when you do come back for the big bottle, with trial pack purchase. $24.00-$39.00, from CraveSkincare.com.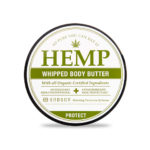 Hemp Whipped Body Butter–From Endoca, this luscious-looking body butter is moisturizing and protects the skin with antioxidants and essential oils. "Supercharged" with CBD and 100 percent natural, organic, food grade ingredients that Endoca said are so pure, you could eat this topical (we suggest slathering it on). With CBD, Shea butter, palm oil, cocoa seed butter, cannabis sativa seed oil, coconut oil, root starch, vanilla, beeswax, and Vitamin E. This formulation packs 1,500mg of CBD in 100ml of body butter. $82.00, at Endoca.com.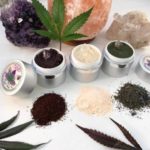 Canna Scrubs™–These body scrubs from RxCannaCare use all natural ingredients to exfoliate, invigorate, and polish the skin, with CBD oil to soothe and nourish all those thirsty endocannabinoid receptors in the skin. In three exfoliation formulations that include coffee, sugar and green tea, and pink Himalayan salt scrubs. The coffee-based scrub also contains cinnamon, which adds to anti-inflammatory and antiseptic effects. Canna Scrubs™ sources its exotic ingredients and essential plant compounds from all over the globe. In various strengths, from 20-600mg, per each 120ml container. $40.00-$80.00, at RXCannaCare.com.