It's often reported that CBD has anti-inflammatory effects when applied topically—that's potentially beneficial for anyone suffering from psoriasis, sunburn, skin outbreaks, and even bug bites.
But many consumers are unaware of hemp's purported antiseptic properties, which may help those with acne, fungal infections, and even minor abrasions. Hospitals use textiles made from hemp because of its special anti-microbial properties.
While that's all a little technical, several CBD-infused skincare and cosmetics brands have complete lines that address a range of skincare issues and also include high end items to enhance any beauty regime.
These lines include exotic botanicals and advanced ingredients you might find on any mainstream retailer's shelves—especially since stores like Barney's New York, Urban Outfitters, and Sephora are already carrying CBD-infused beauty products.
The trend for CBD beauty products is sophisticated and spa-ready, which makes several brands great for holiday displays and special event promotions in your store or online. If you have a fashion-forward following or you're in a high foot traffic, tourist-friendly location, skincare could be on point for your customers—and sets make a great gift.
Here are five brands that offer a broad selection of products:
Infused brand Cannuka showcases two natural, "super" ingredients—CBD and Manuka honey, which both boast potent anti-inflammatory properties and offer anti-bacterial benefits. Honey has been used as a folk remedy for minor skin injures and abrasions since ancient times. Manuka honey is especially sought after; harvested in New Zealand, it's made from pollen collected from tea trees. Cannuka's blends also contain additional essential oils including grapefruit, orange peel, sunflower, and hemp oil, as well as vitamins. Their Cannuka™ Beauty + Health Set includes CBD- and honey-infused Nourishing Body Cream, Healing Skin Balm, Hydrating Lip Balm, and Cleansing Body Bar. $138.00 MSRP. Cannuka.com.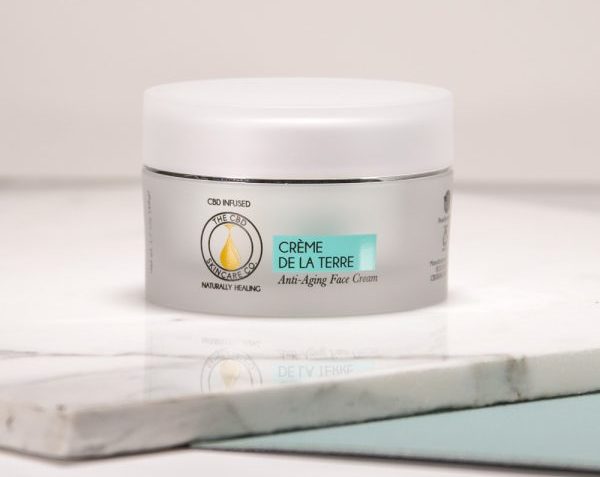 The CBD Skincare Company brand is all about inner beauty, and offers a full selection for skin, hair, body, and even for pampered pets. There's a delicious selection of infused body bar soaps that are naturally scented with lavender, lemon grass, and peppermint; or exotic blends like Oatmeal Spice, Black Magic Woman, Harvest Moon, and Purple Haze. Crème de la Terre—an anti-aging facial cream—is infused with organic CBD extract, as well as mushroom and Amica extracts, and Vitamin K. There's also an exfoliating cleanser. For hair, CBD-infused shampoo and conditioner can be naturally beneficial for dry scalp, while hydrating hair follicles. Put a few of these items together for a lovely CBD gift basket. Wholesale opportunities available. CBDSkincareCompany.com.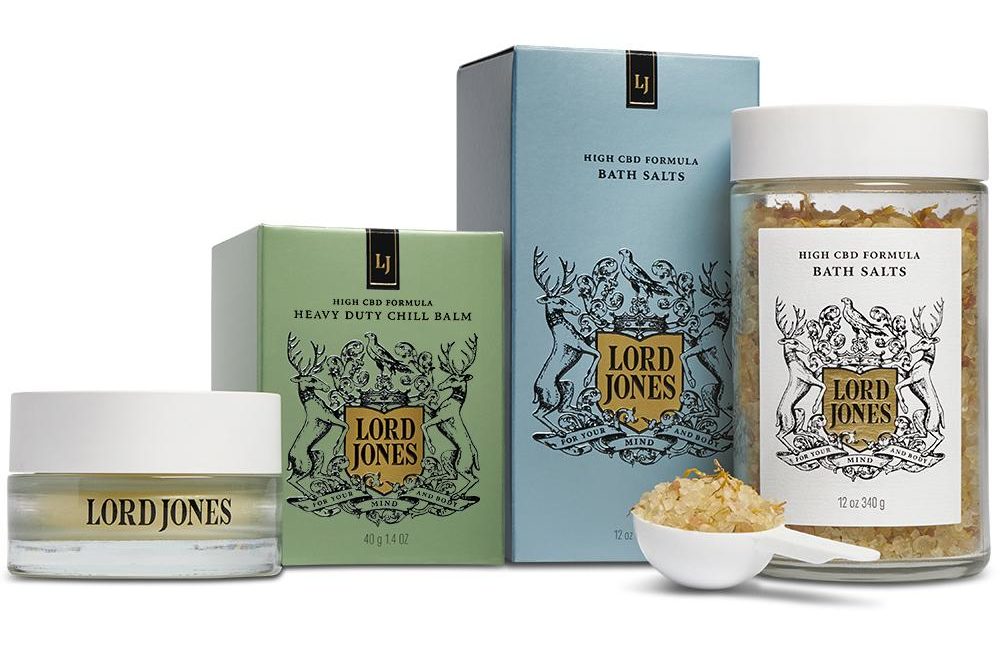 The Lord Jones CBD luxury line focuses on relief because if you're uncomfortable, that's not fun or pretty. Lord Jones has been featured in a lot of celebrity media as a favorite with Hollywood starlets and style influencers, especially for foot pain relief at red carpet events. Developed for the body beautiful, Lord Jones offers all levels of relief, from High CBD Body Lotion and Oil for skin, to Heavy Duty Chill Balm, and their Royal Oil, which packs a whopping 1,000mg per one ounce bottle. The brand also packages several bundles and gift sets, suitable for every infused occasion—especially if you include some of Lord Jones' gourmet CBD-infused gummies. LordJones.com.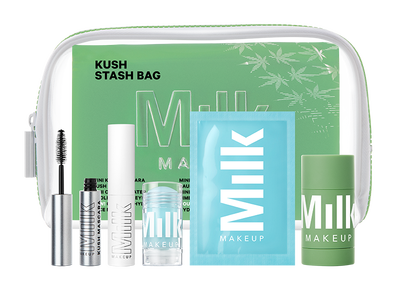 While not exclusively CBD-centric, Milk Makeup is on-trend with the Instagram-able demographic. Slick, edgy, and irreverent, Milk shows off its KUSH line, which includes CBD-infused lip balm, Hydro Grip Primer, and KUSH Growhouse™ Lash + Brow Serum—something different in the crowded skincare category. Their KUSH Stash Set includes a mixed sample bag with CBD-infused KUSH lip balm in Green Dragon, Mini Infused Mascara, as well as a hydrating face mask, Cool Water eye stick, and refreshing under-eye patches. Perfect for party queens that need to pack a little rehab in their bag of tricks. The KUSH Stash Set is $49.00 MSRP. MilkMakeup.com.
Woman-owned, CBD-infused brand R.E.M. Full Spectrum CBD includes something for everything that ails you, and is especially attractive to customers that want "full spectrum" formulations, with CBD sourced from cannabinoid-rich hemp extracts. R.E.M. products have unisex appeal and simple, sophisticated shelf style. The line includes lip balm, scented soaps, body scrub, and body butters in organically yummy scents like Citrus and Sandalwood Vanilla. It also offers an infused face and beard balm, for fans of facial hair. Wholesale opportunities are available. REMFullSpectrum.com.