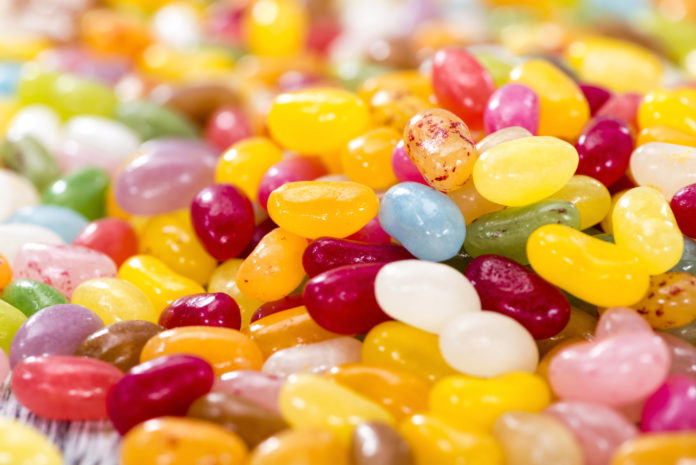 David Klein loves jellybeans. He also loves life, being an entrepreneur, and talking to people. He started out in wholesale nuts in 1974 but, even though he's been out of the candy business for more than twenty years, his true love is jelly beans. It's been decades longer than that since Klein founded iconic confectionery brand Jelly Belly®.
Now, the "Candyman" (also the name of a bio-documentary about him) is back in the game with CBD-infused jelly beans from his wholesale company Spectrum® Confections. Since news broke about his return to the candy business, Klein said the phone has been ringing off the hook with orders and interest.
"I'm not trying to brag, but I was at the forefront of the nut business, and that led to Jelly Belly, and that led to forty years of waiting to get back into the business. And every day, I did not know how I could accomplish it, but I finally did," Klein said.
The jelly beans are available at Spectrum's website, for white-labeling and in bulk, though he added they've been selling out. Three varieties — assorted, sour, and no-sugar-added –- come in a 38-flavor assortment, with each flavor distinct and unique.
Infused with CBD isolate, each bean contains 10mg of CBD. Klein said he's also looking into adding terpenes and even THC infusions, to provide fuller "entourage" effects and expand on the new line. Gainesville, Florida-based Botanica Testing Inc. tests the product to ensure consistency and potency.
One of Spectrum's customers is retailer Haystack4Life.com, with the beans branded and packaged under the Cool Beans line. The owner of the Seattle-based comnpany, Jeffray, not is only a Spectrum client but also a wish fulfilled from an earlier in time in Klein's natural-food career.
"He is the nephew of one of my favorite people in the world, who started Mrs. Gooch's, who sold out to Whole Foods," Klein explained. "And then he passed away."
Klein had always hoped to start a food-based business with his late friend Dan Volland, who had been a principal at pioneering natural food company Mrs. Gooch's. Though that never happened, Klein feels his new business relationship with Jeffray has the blessing of his old friend.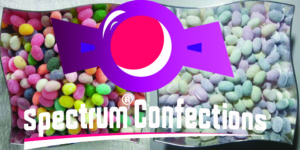 Natural Food Pioneer
Originally from Syracuse, New York, Klein and his parents relocated to the Los Angeles area when he was three. While attending law school, health-conscious Klein developed a craving for jellybeans, which he already loved–and also loved that the candy was a relatively low calorie sweet snack.
"Four calories per bean," Klein said. "I liked the fact that if you ate four of them, that's only sixteen calories. You bought a chocolate bar, and you gotta eat the whole thing 'til you're finished with it. That's at least 150, 200 calories."
The siren song of entrepreneurship called to him after college, having been a salesman in several industries before landing in his own wholesale nut business. Walnuts led to cashews, which led to dried apricots, until he was selling nuts to some big accounts, including Famous Amos® cookies. The crisp, snack-size cookies turned out to be the inspiration for Jelly Belly®, according to Klein.
"I was selling Famous Amos and I figured that if [Wally "Famous" Amos] could make a living, just selling chocolate chip cookies. I could make a living selling jellybeans. That's how the whole thing got started," he explained.
At one point, Klein was as close to a real-life Willy Wonka as one could get. He appeared on magazine covers and on TV, guesting twice on '70s network talk program "The Mike Douglas Show." By the time President Ronald Reagan brought jarfuls of jellybeans with him to the White House in the '80s, singular and exotic flavors had already defined Jelly Belly®, compared to old-fashioned jellybeans, which pretty much all tasted the same. Reagan's favorite Jelly Belly® flavor was black licorice.
The jellybeans had become just as famous as chocolate chips, when Klein's association with Jelly Belly® ended in 1980. Without too much detail, he said this was the result of an unexpected takeover action by the manufacturer.
"It all brought me to where I am right now; I wanted to be back in the Jelly Bean business for forty-four years. Twenty of those years, I had a non-compete clause, so that I couldn't compete with them on jellybeans."
"Now I'm back in. And more important than anything, I'm able to help people with what we're doing," he continued.
Senior Entrepreneurs
Wally Amos, who put the "famous" in Amos, is 82 and still a friend of Klein's.
"Brilliant man. He has helped more people learn–he developed a literacy program for kids," Klein commented.
Like many of his potential customers, at 72, Klein is a senior citizen. He shares the concerns of seniors that are the fastest growing market for cannabis and hemp-based products–and saw a gap in the edibles market that he felt uniquely qualified to fill.
Klein takes CBD, and the business venture was inspired by an incident when his wife was hurt in a fall while they happened to be in Colorado. Pain from her injuries was successfully treated with CBD, and that's when he recognized how jellybeans could help.
"I had no idea there were that many people out there, that were suffering from everything from Crohn's Disease to rheumatoid arthritis," Klein described. As soon as the CBD-infused beans were available patients have been contacting him, he said. If he gets you on the phone, Klein wants to know all about you.
"One man called me up. He had been crushed, almost killed in a flourmill [accident]. He was in such chronic pain–and you know what? These people don't wanna get addicted on strong narcotics."
Klein has always believed in jellybeans and their sweet ability to make people smile. Now, he's a CBD true believer–and he's back.
"We're in business to help people. We cannot make any medical claims–we realize that," Klein said. "But I'm going on personal experience and testimony that we received from people, saying that this was a blessing to them."