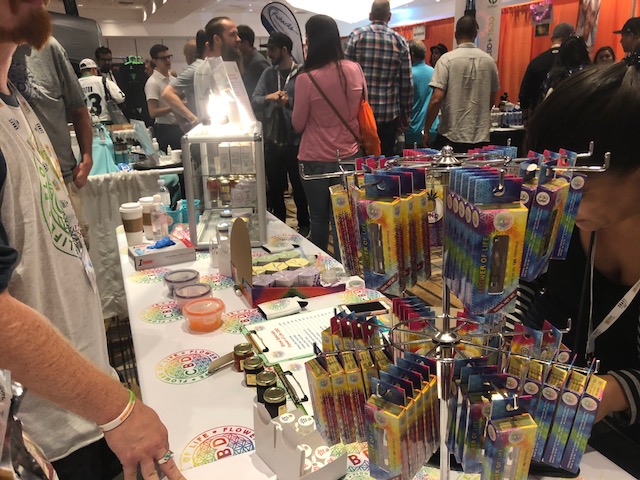 ANAHEIM, Calif–CBD Expo West was held at the Anaheim Marriott this past weekend under sunny California skies. Even with controversy in California making the use of hemp-derived CBD oil a murky legal area (due to directives issued in July by the California Department of Public Health), the Expo saw robust attendance and coast-to-coast vendors that attended the show.
Front and center, lanyard sponsor and CBD retailer Topikal welcomed guests, who could sample their signature line of balms, tinctures, and oils. Exhibitors at the show were anxious to show off their products, with lots of samples and giveaways available.
Also in the front row, Montreal-based Dr. Andrew Kerklaan, whose 25 years as an MD, focused on pain relief, natural treatments, and health and wellness, has led to a signature line of CBD-infused topical lotions that address specific conditions, including pain relief, skin care, PMS and cramps, as well as a sleep formula. A pain relief spray and balm stick complete Dr. Kerklaan's new line.
Products on display in the hotel's Grand Ballroom ranged from vape pens and juices, to skincare, to coffee and other consumable formulations, with several lines for pets, as well as their owners.
Dr. Tim Shu, founder of VetCBD and a CBD Expo West keynote speaker, created a medical tincture formulation for pets that is derived from cannabis plants (available in California dispensaries only) and is the first pet CBD product developed by a veterinarian. After several years of producing the 20:1 CBD-to-THC tincture, Dr. Shu said VetCBD will soon offer a hemp-derived tincture, which will be available nationwide.
"Education," Dr. Shu emphasized. "That's what really makes the difference for us. I find myself educating all the time, so people understand how CBD works for pain and inflammation. People can contact our website and talk to a veterinary nurse, if they have question, so we're always educating people."
Far from the only pet product there, dog attendees of the show were able to enjoy treats from many booths, as even some brands targeted at humans had added pet treats to their selections. Phyto Animal Health, another veterinarian-formulated line of tinctures and treats, attracted attendee's attention. Pet treat company Snif-Snax also exhibited their new lines of infused smoked salmon-flavored Chewies dog treats, made with Scottish salmon, rosemary, and sweet potato.
Several family-owned operations exhibited, with handcrafted, artisan products that seemed often to be inspired by personal experiences related to health issues for themselves or loved ones.
At Life Flower Care, even their booth was handmade by founder/owner Scott Leon. Rustic, reclaimed woods reflected the wholesome feel of the natural spa-inspired line, which includes hemp-infused body washes and oil, as well as bath crystals and bombs blended in therapeutic formulations containing herbs, botanicals, and semi-precious crystals. Leon said his mother, who needed pain relief, inspired the line.
"No vape pens," Leon told CBD Today, enthusiastically. "We just don't do them. Lots of other people do–we don't. That's not our customer. Our products appeal more to women and customers looking for relaxation, high quality ingredients and the health benefits of CBD."
Based in Northern Ireland, Gloriblends, another family-owned company franchise, exhibited a colorfully-branded line of wellness oils in formulations targeted at pain, anxiety, focus, mood, sleep, and headaches. The hemp-derived, all natural products includes capsules, tinctures, lotion, and pet treats.
Charlotte's Web/Stanley Brothers, one of the most well known names in CBD, hosted a booth that featured their whole hemp plant-derived proprietary CW Hemp line, which includes oils, capsules, balms, and yes, a pet tincture. Pioneers in the CBD industry, the Stanley Brothers were featured in Medical Correspondent Sanjay Gupta's first episode of CNN's "Weed" series, which arguably put CBD on the consumer radar overnight.
The clean lines and minimal look of Craft CBD gave a high-end feel to the full selection of infused massage lotions, topical creams, tinctures, and sublingual strips. Their marketing was aimed at squarely at sophisticated consumers interested in incorporating CBD into their lifestyles; the emphasis on mood and maintaining wellness.
Across the row, the LIIV Organics booth gave away samples of their mint-scented recovery hemp oil formula, and showed off an upcoming product from their line–CBD infused coffee. Near the busy end of an aisle, the booth saw a steady stream of show attendees, who took advantage of Saturday's program.
Coffee, infused waters, and other beverages were a string product category at the Expo. At Utah-based Proper Hemp Company, their The Chronic blend was prominently displayed among a full selection of products, highlighted by consumer-friendly, wholesome branding style. Their coffee beans, sourced from DOMA Coffee Roasters, were a favorite around the office and later, became a natural choice for Proper's infused blend.
"If you have jitters from coffee, then you have to try this," said Proper's Denise Paredes. "It's so smooth. You feel the energy without getting anxious, so it's great for people that drink coffee all day or for the one-cup a day person that wants to add CBD to their morning routine."
On the demonstration stage, Chef Matt Stockard cooked up a few tasty dishes, included cheese dusted ravioli that had been sautéed in infused cooking oil. Attendees were able to sample the tempting treats, straight from chef's sauté pan.
Chocolate–always a favorite even when it's not infused–was also popular in the edibles category, alongside gummies, hard candies of every variety, and savory edibles.
One interesting innovation was introduced by Grön CBD brand, including chocolate bars infused with cannabidiol (CBD) derived from the bark of Southeast Asian evergreen trees, which is processed with citrus rinds. The phyto-cannabinoid concoction is then blended into Grön's chocolate bars, chocolate and caramel sauces and syrups, tinctures, body balms, and beauty products. The brand also has a café storefront location in Portland, Oregon, where customers can try their non-hemp, non-cannabis derived CBD products.
To see a full list of CBD Expo West show exhibitors, please, click here.